It stops now - NWCI launches European campaign
Published: Monday, April 10, 2017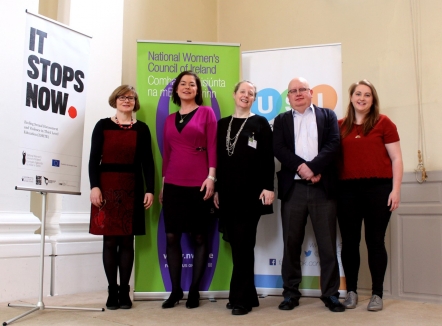 On 5 April NWCI launched It Stops Now the campaign of our new EU project Ending Sexual Harassment in Third Level Education (ESHTE). The event took place in the Law Society of Ireland in Dublin. There was great support and interest with representatives from student unions, universities and colleges around Ireland in attendance. The core ESHTE project partners, The Mediterranean Institute of Gender Studies (MIGS) in Cyprus, The Women's Chancellor at Ludwig Maximillians University, Germany, The Women's Issues Information Centre, Lithuania, and Rape Crisis Scotland UK had soft launches in their countries, issuing press releases and undertaking some national media work. In Ireland, the following higher educations institutions will take part in the project: Dublin City University (DCU), Dublin Institute of Technology (DIT), Dundalk Institute of Technology (DkIT), Dún Laoghaire Institute of Art, Design and Technology (IADT), Trinity College Dublin (TCD), University College Cork (UCD), University College Dublin (UCD), and University of Limerick (UL).The project website www.itsopsnow.org went live on the day.
NWCI Director, Orla O'Connor, opened the event and outlined how the project will work to develop a strong policy framework for addressing sexual violence and harassment, driving clear reporting and disclosure mechanisms, resourcing support services and ensuring long-term, sustainable interventions and institutional change in Irish & European higher education institutions (HEIs). She placed the project in the wider context of the extent of the sexual violence and harassment (SVH) women experience in their daily lives. Orla reminded attendees that we continue to have a serious problem assessing the extent of the problem, given the lack of current research and poor information and data gathering processes in Ireland and across all EU countries. Orla particularly commended students unions for their activism on this issue and USI's leadership in commissioning the 2013 "Say Something" research, which brought the issue to national prominence in Ireland.
Síona Cahill, Union of Students of Ireland (USI), Vice President for Equality and Citizenship highlighted that "Say Something" reported over 30% of women feeling harassed or intimidated while at their institution, with 16% experiencing some form of unwanted sexual contact and only 3% ever reporting these incidents to anyone "official". Síona affirmed USI's commitment to tackling the issue of gender-based violence as a core equality campaign and shared with the audience that Congress 2017 had just agreed to develop student -centred Consent workshops.
Philip McCormack, of Cosc, the National OffIice for the Prevention of Domestic, Sexual and Gender-based Violence, outlined the work that Cosc is undertaking to address the data and research deficits in Ireland. Cosc facilitates the Postgraduate Research Network (PRN), academics working on different aspects of gender-based violence across Ireland. Philip also heads the Prevalence team at RESPECTNetwork , a research group, from across many universities from both the North and South of Ireland, and from a variety of disciplines including Psychology, Law and Social Work. The network will be focusing on the issue of SVH in HEIs for the next 3 years.
Dr. Louise Crowley, Vice Dean (Student Affairs), and Senior Lecturer in Family Law at University College Cork (UCC) shared the innovative Bystander Intervention Programme, piloted at UCC this year. Adapted from a model developed by Dr Rachel Fenton in the UK, the pilot 6 module programme was mandatory for 1st year Law students at UCC this year. Dr. Crowley outlined the outcomes UCC was seeking with the pilot, encouraging a greater understanding of the current normalisation of sexual misconduct, empowering students to challenge unacceptable behaviour, supporting students to develop awareness, capacity to act, and the skills to intervene, and ultimately to ensure a safer campus and safer society. The programme has been very successful and Dr. Crowley is currently leading an evaluation with a view to a wider campus roll out in future years.
The official launch ended with Jennifer McCarthy Flynn, project Coordinator giving a short overview of the ESHTE project itself and the intended actions including running the It Stops Now campaign, developing and piloting a toolkit for HEIs & SUs and hosting European dissemination seminars and conference.
For more information please contact Jennifer McCarthy-Flynn, jennifermf@nwci.ie or visit www.itstopsnow.org