Lack of action will cause the pay gap to increase further
Published: Thursday, November 17, 2016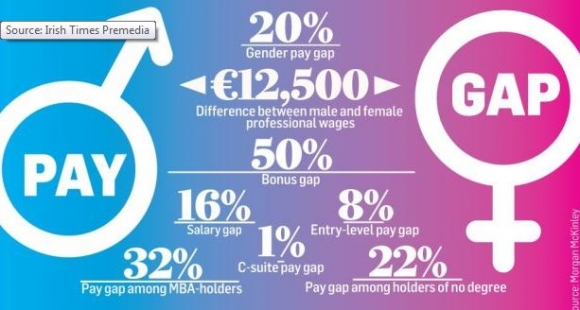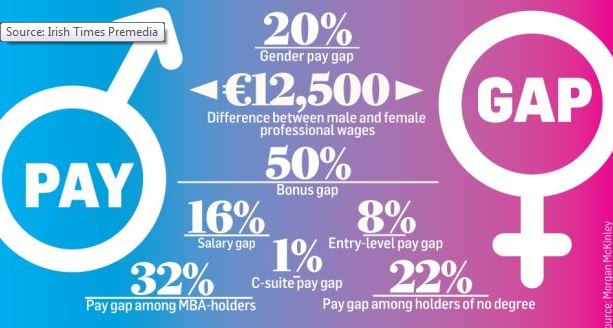 The National Women's Council of Ireland (NWCI) this morning responded to the Morgan McKinley research which shows that the gender pay gap in the professional sector in Ireland is 20%, saying that unless immediate action is taken, we will see the gap increase further.
Orla O'Connor , Director of NWCI said,
"That the gender pay gap is widening is not a surprise, given that this has been an ongoing trend since 2013. Despite achieving higher levels of educational attainment than men, women are still paid less for the work they do. The Morgan McKinley report has some very interesting data, and mirrors what NWCI has been saying for many years now; the predominance of women in low paid and precarious sectors has a significant impact on the gender pay gap. We know that in Ireland, 50% of women earn €20,000 or less annually. A distinct lack of affordable childcare and a dearth of a family friendly work policies combine to have a large impact on women's earnings, and an even larger impact on the gender pension gap, which stands at 37%."
Orla O'Connor continued,
"The report also clearly highlights how the low proportion of women in senior managerial positions impacts on the gender pay gap. For women who make it to senior executive level, they are paid almost the same as men. The problem is that 38% of professionals with 15 plus years' of experience are women versus 62% are men. Without a doubt, the fact that Ireland has among the highest childcare costs in Europe has an impact on women being forced out of the workforce, contributing to far higher number of men in senior positions. We see this clearly in families where there is more than two children, and there is a significant difference in women's employment participation."
Orla O'Connor concluded,
"Unless we see concrete action, the gender pay gap will continue to increase. It is a real breakthrough for women's equality that Budget 2017 announced the beginning of a publicly subsidised childcare model. This is a tangible step in the right direction, but we are calling on the Government to significantly increase funding for it, so it can have a real impact on the gender pay gap. In addition stronger action is required from public and private employers to ensure women are promoted to senior positions".
"Furthermore, the government must ensure gender budgeting occurs for Budget 2018, as they committed to in the Programme for Partnership. This would ensure a consistent approach is taken to tackle the gender pay and pensions gap, rather than the current piecemeal approach. It is not enough to do something about childcare here, and a little bit about low pay there. We need joined up thinking in terms of looking at all the different factors that affect the gender pay gap, such as an increase in the minimum wage, and more family friendly work practices. Alongside these measures, Ireland must fulfil its Programme for Government commitment to insist on mandatory gender pay gap reporting legislation for private companies, to ensure there is no discrimination in terms of what women are paid."
/Ends
For more information, please contact Sarah Clarkin, Communications Officer, 085 8619 087