NWCI calls for big numbers to attend the most important March for Choice yet
Published: Friday, September 29, 2017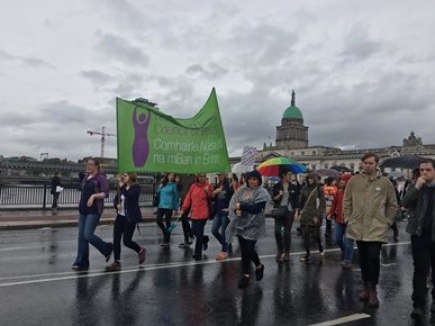 The National Women's Council of Ireland (NWCI) is calling on the public to support the most important March for Choice yet.
Orla O'Connor, NWCI Director, said,
"NWCI and many of our 180 member organisations will be joining the March for Choice this Saturday, to show our support for women who face difficult decisions in pregnancy. Now, more than ever, it is critical that the voices and experiences of women, couples, families and doctors are heard in this important national conversation. This will only be possible if we challenge the adversarial nature of the debate and approach this personal matter in a respectful and open-minded way."
Orla O'Connor continued,
"As it stands, women cannot tell their experiences of travelling for an abortion in broadcast media, without an opposing view in the same space. Every pregnancy is different, every decision is personal, and no one makes pregnancy decisions lightly. We must move the conversation away from focussing on simply abortion and restrictions, and instead reflect in public discourse the complexity of difficult and personal decisions a woman may face."
Orla O'Connor concluded,
"The current focus on the Eighth Amendment provides an important opportunity to create a new vision for healthcare in Ireland. We believe Ireland needs to work towards a comprehensive, integrated public healthcare system that prioritises and provides for all reproductive health needs. Among other measures, this requires legislation that provides an option of abortion on request in early pregnancy, which will also support women who are pregnant as a result of rape. For later term pregnancies there should be an option of abortion available on health grounds and in the cases of a diagnosis of fatal foetal abnormalities. The Eighth Amendment has been proven, time and again, to be a fundamental barrier to legislation of this kind. The public need to be offered real solutions for Constitutional change that allow for the complexity of real life."
NWCI Director Orla O'Connor will be available for interview at the March for Choice.
/Ends
For more information, please contact Sarah Clarkin, Communications Officer, 085 8619087.