Welcome Five New Group Members!
Published: Friday, September 29, 2017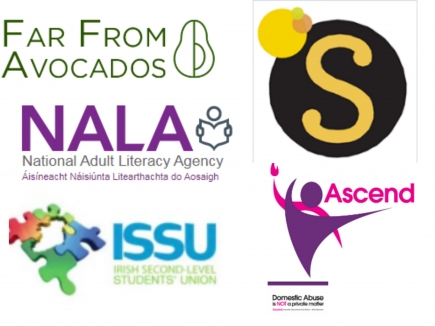 The last five months have been very busy and we are delighted to announce that five New Groups Members have joined NWCI:

The Shona Project helps young Irish girls through all the challenges associated with growing up in Ireland today. The website for girls shares inspirational content, celebrates difference and provides practical advice and a sharing hub on issues such as mental health, relationships, bullying, body issues, medical concerns, school and exams. The Shona Project also operates a school workshop roadshow highlighting bullying, body issues and self esteem; an annual "Young Women's Convention" for transition year students and an annual awards event. They are also on Facebook and Twitter.
Ascend Domestic Abuse Service for Women, in North Tipperary, provides support and information to women who have or are experiencing domestic abuse in their intimate relationships. Ascend's primary purposes are the safety of women and children, and ensuring that women have support and information about the dynamics of domestic abuse and services available so they can make informed choices. Services include support, information, outreach support, court accompaniment services and personal development courses for women. Ascend is also involved in awareness raising and education about domestic abuse. Managed by North Tipperary Leader Partnership (NTLP) in Partnership with Tusla, The Child and Family Agency, Ascend is the sole domestic abuse service covering North Tipperary which has a population of 70,219. Learn more about their work on Facebook and Twitter.

Irish Second Level Students' Union (ISSU) is the national umbrella body for over 500 school student councils, aiming to represent and connect Irish second-level students the length and breadth of the country. The ISSU ensures that the voice of the Irish second-level student is heard and strives for innovation and democracy within the education system. The ISSU believes that young people are not merely citizens in waiting. They believe that young people deserve better and deserve to be heard. They know that young people can and will contribute positively to society. The ISSU believes that the voices, views and opinions of young people need to be heard, listened to and most importantly respected. Read more about their work on their website and on Facebook.
National Adult Literacy Agency (NALA) is a charity and membership organisation. They exist to support people with literacy and numeracy difficulties so that they can take part fully in society and have access to learning opportunities that meet their needs. They are committed to literacy and numeracy development as a human right. They want to ensure no adult is left behind by: building awareness of the importance of literacy for a more inclusive Ireland; leading innovation in the teaching and learning of adult literacy, numeracy and basic digital skills; and seeking further investment in raising adult literacy and numeracy levels in Ireland. Their priorities are: literacy as a human right, equality, collaboration, support, innovation, transparency, quality and best practice. Find out more about them on their website, on Twitter and on Facebook.
Far From Avocadoes is a Creative Digital Content Agency working with clients and brands to break new ground and challenge their own boundaries and demonstrate their relevance in today's world. They strongly believe and adhere to the importance of women in decision–making and leadership positions. In their own workplace, they strive to give their female employees the very best in education and training so they can compete in today's competitive business world. They are hosting a conference on the 10th Nov at the Science Gallery will have a majority of female presenters. This is a purposeful choice but these women also happen to be the best in the industry. Learn more about them on their website, on Twitter and on Facebook.