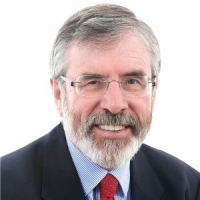 Gerry Adams, Sinn Féin: What we will do to advance women's rights in Ireland
Published: Saturday, February 13, 2016
NWCI has asked leaders from the main political parties to outline what they will do to advance women's rights in Ireland when in Government after the General Election. This is the response from Gerry Adams, Sinn Féin.
Women in Ireland have been hardest hit by the policies of austerity in recent years and the prevailing two-tier recovery which has disproportionally benefitted the wealthiest in society.

Sinn Féin in Government will increase the minimum wage and work towards the introduction of a 'Living Wage' which will ensure that women and families have minimum acceptable living standards, and we will work to ensure the 14% pay gap that exists between women and men in Ireland is eliminated.

We will roll back on the austerity measures that have disproportionately affected women and make early years and high quality childcare accessible and affordable.
We will ensure that all Government budgets are equality proofed in order to ensure that women are not disadvantaged.

We recognise the costs associated with disability and will ensure that women with disabilities have access to a fair income by extending access to mainstream supports and open mainstream jobseeker supports to women with disabilities on a voluntary basis and end the exclusion of young women with disabilities from the Youth Guarantee scheme.

Sinn Féin is committed to changing attitudes and removing glass ceilings to encourage more women to become politically active. A diversity of voices is essential if we are to build a fairer, equal and more inclusive Ireland. Women must be front and centre in all policy making decisions, from local Government to national Government so that we can achieve true gender equality.

Gender equality must however mean more than just gender quotas, it means taking seriously the issues of domestic and gender based violence by resourcing services appropriately and implementing the Istanbul Convention.

Up to 80% of women fleeing domestic violence were turned away from Dublin refuges in the period January-March, 2015 – this is unacceptable.

Sinn Féin in Government would end Direct Provision and build 100,000 new social and affordable homes over the next 15 years, and provide suitable culturally appropriate traveller accommodation so that no women is forced to live in precarious locations at risk of eviction.

Sinn Féin in Government would protect and invest in our public services and we are committed to the realisation of a world-class system of universal healthcare. We have a real plan to deliver healthcare access on the basis of need alone, free at the point of delivery for all citizens.

'A What Matters to You?' survey in 2014 highlighted the unmet demand for midwives. Just 5.5% of respondents said that they had access to midwifery-led care in their area. Of those that did not have access to such care, 55.5% said that they would avail of midwifery-led care if it was available. We would radically increase the number of midwives and obstetricians and gynaecologists and reduce unnecessary interventions in pregnancies and place women at the centre of the delivery care model.

We are committed to holding a referendum to repeal the 8th Amendment to the Constitution which currently prevents doctors from providing appropriate care to women in Ireland, and we will campaign for its repeal in any such referendum.
Gerry Adams, Sinn Féin