World Community Development Conference: Call for papers and registration
Sunday, June 24, 2018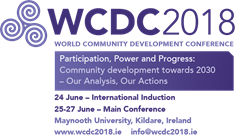 Community Development towards 2030 – Our Analysis, Our Actions
Community Work Ireland, the International Association for Community Development and Maynooth University will host the World Community Development Conference in 2018.
Participation, Power and Progress:
Community Development towards 2030 – Our Analysis, Our Actions
The conference will encompass cutting edge inputs, papers, creative installations and poster presentations on rights-based community development, addressing and engaging locally, nationally and internationally with key current issues including:
• Change and transformation
• Impact and outcomes: Measuring and monitoring
• The role of state agencies, regional and local authorities
• Current rural and/or urban challenges
• International development
• Community economic development
• Environmental justice and sustainable development
• Women's rights
• Gender
• Poverty
• Migration
• Racism
• Indigenous peoples and minority rights
• Disability
• Health
• Community development standards, education and training
• Community development and other disciplines
• Civil and political rights
• Economic, social, and cultural rights
Mary Robinson will join a host of national and international speakers in what will be an exciting event for community work in Ireland.
The call for papers and early bird registration is now open.
Find out more information about the conference and how to register here.
Starts: 24 June 2018 10:00
Ends: 27 June 2018 17:00
Location: Maynooth University, Kildare, Ireland