Women Rising: Cafe Events
Wednesday, March 26, 2014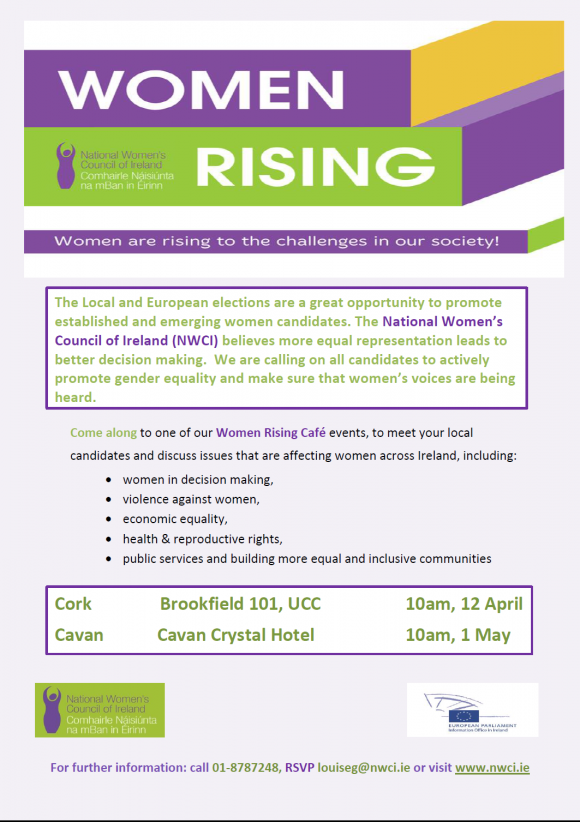 For far too long Ireland has been known for the lack of gender equality in its political decision making with women account for just 25 % of all elected representatives in Ireland. This can start to change in the Local and European Elections on May 23rd 2014. NWCI believe this election is an important opportunity to support women's participation in politics both as candidates and as voters.
The European and Local elections will be held on 23rd of May. Candidates must be made aware of the issues that are importnat to our members. By attending the Women Rising Café Series you will have the opportunity to sit alongside candidates from your area, and share your thoughts on women's rights and gender equality.
The issues to be discussed are:
women in decision making
violence against women
women's economic independence
well planned quality public services
health and reproductive rights
equality and social inclusion
It is critical that candidates are aware of the issues affecting women in Ireland. We need you, your colleagues, or your activists to join us on Saturday, in UCC in Cork, to deliver these important messages and ensure that these issues are part of the conversation at election time. Your support on the day would be greatly appreciated. If you are interested in attending, please RSVP to louiseg@nwci.ie, as soon as possible.
Read the Women Rising Manifesto.
TO DONATE €2 TO NWCI PLEASE TEXT THE WORD STEP TO 50300
Starts: 26 March 2014 16:30
Ends: 1 May 2014 17:30
Location: Various