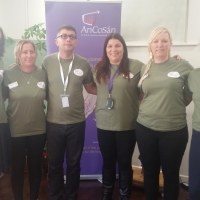 Women working in Equality, Technology & Community Education - Meet Sonya Doherty from An Cosán!
Published: Thursday, October 19, 2017
Meet Sonya Doherty, a graduate of An Cosán's Technology courses, who is now working with An Cosán's Tech Army as a Digital Pathways Learner Support Educator. The Tech Army is an important step to leadership and employment in STEM for graduates of An Cosán's technology programmes. Graduates partner with more experienced colleagues to upskill in teaching and learning methods and in turn graduates deliver I.T. modules through Digital Pathway's scheme to local community partners including the Digital Hub and Ballyfermot Partnership who currently lack the expertise and capacity to deliver this information to their participants in house. This influence will have an important knock on effect on local employment opportunities and internships.
First a little more about our Group Member An Cosán
An Cosán is Ireland's largest community education centre, based in Jobstown Tallaght, delivering education services to individuals from disadvantaged communities. An Cosán makes learning accessible to more women by providing morning childcare services in Jobstown as well as other training establishments across Dublin. In the last few years, An Cosán has gone one step further: it now delivers adult education nationally with their Digital Pathways face to face workshops and online through their VCC courses. Education programmes include; Technology, Office Skills, English, Climate Change, Gender Studies, Wellbeing and Childcare – many of which are QQI certified. An Cosán also collaborates with I.T. Carlow to deliver Degree programmes on Community Addiction Studies, Community Development and Leadership. Download their Guide to Classes and Programmes here.
Sonya, why did you start learning with An Cosán?
I didn't have a good experience at school and was not very enthusiastic about going back to learning all over again. What pushed me in the end was the need to keep track of what my kids (aged 5, 12 and 17 at the time) were up to online, keeping them safe and helping them with school work. I was also keen to get out there into the workforce but at the time I had no applicable skills and very low confidence. So in 2013, I chose to do a course with An Cosán as it was only around the corner from where I lived and the times suited me with the children at school. Within the first 10 minutes of doing the course, I knew this was the right place for me. Between the supportive teachers, other friendly students, the general An Cosán atmosphere and structure of classes, I couldn't wait to come back and learn more.
I went on to do the basic computer class, E.C.D.L, Office Administration Programme and the Young Women into Technology (YWIT) programme. I was then asked to join An Cosán's Tech Army - a group of past YWIT graduates. We were trained to deliver technology workshops and this supported An Cosán to deliver technology interventions across other disadvantaged communities in Dublin and Ireland. For more info contact s.kelly@ancosan.com.
What are you doing now and what are your future career plans?
Four years on in May 2017 I successfully applied for the position of Learner Support Educator with An Cosán's Digital Pathways, a scheme that delivers I.T. workshops at a variety of locations nationally. Funded by Accenture, it offers accessible education in digital and employability skills, creating new pathways for people in disadvantaged areas bridging the digital divide. The Digital Pathways programme has delivered I.T. workshops to over 100 women and men in Dublin since May 2017 and now we will be delivering our I.T. interventions nationally including sites in Galway, Cork and Wexford. Contact j.wickham@ancosan.com for more information.
We aim to have delivered workshops to over 240 participants nationally by December 2017. I've gone one step further and now I'm actually teaching other people how to teach I.T. as part of the 'Train the Trainer' programme. I'm giving back what I learned to lots of people of different backgrounds and ages. This makes me very happy – knowing how many doors it's opened for me and will hopefully for others.
What were the challenges with studying and returning to work?
Learning Technology at An Cosán worked out great. My teachers listened and took the time to explain to me – no question was ever stupid! I also had excellent support when it came to assignments and juggling deadlines with daily life and family. Sometimes I found the assignments hard to balance but luckily I had a lot of support from my teachers and mentors to work it out. For me, I had to learn to manage my family and study/work life and I had to explain that 'Mam has certain times she has to study and work'. They see how happy I am now and how I can help them so much more with their studies too.
What has surprised you about learning in this environment?
The major surprise for me was discovering that I was actually quite good at learning and technology even without a Leaving Certificate. Even more surprising, was that I turned out to be a good teacher and I really enjoyed giving back to others what I had learned. Technology is definitely not as hard as I had imagined it to be. I would really encourage anyone to give it a go, start with a simple computer course and take it from there. Learning about Technology has given me great satisfaction, a new flexible job which I really enjoy and I've made some great friends. It has been a real confidence boost - to believe in myself and not just as a mum and wife.
What do you find most challenging about Education and Women and how would you change it?
I would like to improve affordability, accessibility of courses and IT equipment for women, especially those who are looking after children or the elderly. Money is very tight for many people in this situation. Providing the right mentoring and structural support for women is also very important to make sure that assignments can be completed properly and time allowing. The other major problem is the lack of childcare support for women in education and in job training schemes. Without it, it is impossible for many women to get back on this pathway to work. Here at An Cosán in Jobstown, we are lucky that there is a free early-years childcare service for women attending classes but this is not the norm throughout the country.

What do you think will be the main changes in education for women over the next 5-10 years?
Jobs in technology offer lots of opportunities for girls and women who want flexible, decent paid, sustainable and interesting careers. Girls and women are now starting to look at this sector when it comes to studying and jobs - not just childcare, teaching and nursing etc. In my own day to day life outside of An Cosán, I spend a lot of time teaching and encouraging my friends to learn and make the most of Technology for work and play. I tell my friends 'It's like this, if you can use Facebook, Instagram and Twitter, you could easily do digital marketing for businesses'. This type of work is perfect for working mothers who require flexibility, decent pay and want an interesting career. My own daughter, who is 21, is studying Digital Marketing in DIT Dublin Institute of Education.
I also see a trend in courses being delivered online making education much more accessible, flexible and affordable if not free. Take An Cosán's VCC Online Learning or the Digital Pathways face to face programme that travels the country. Another good resource is the free online learning portal 'Skills to Succeed Academy' which we integrate with the Digital Pathways programme. Launched by the Deptment of Social Protection and Accenture, it is a free, interactive online training programme focusing on IT skills, interview techniques and preparation for employment. It is developed specifically for 15-24 year-olds but the content is relevant to all ages. I've used it and I encourage all my students, young and old, to use it - even my kids are fans of it. For more information, see here.
Tell me about someone who has influenced your decision to study and work?
My mentor and role model is Sinéad Kelly, I.T. Education Coordinator at An Cosán. Sinéad developed the Young Women into Technology Programme and the Tech Army who now deliver the Digital Pathways programme. She has taught me so much about I.T and encouraged me in my career as an I.T trainer and also to think ahead of other teaching and learning opportunities. Sinéad herself started out on a lone parent's technology course 10 years ago, and has since worked and studied her way up and is now doing her Masters in Teaching and Learning. She has inspired me to look at doing it too. Learning and teaching Technology is what I want to do from now on!