Feminists are everywhere - NWCI AGM Morning Event
Thursday, June 08, 2017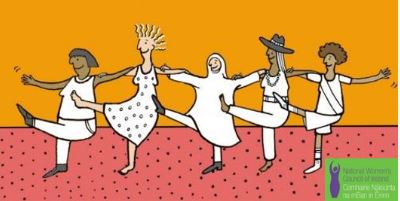 Join us for our annual discussion on current issues around women's equality in Ireland! Our AGM morning event "Feminists are everywhere" will feature feminists in a range of areas and sectors, including feminist leaders in advocacy and campaigning, the media, in business and in the community.
Speakers will discuss the challenges women still face in order to become leaders and outline what needs to happen to make Ireland a more equal society. We expect the event to have a strong vibrant discussion with our members and friends in the audience and a large online engagement with a diverse range of women as was the case in previous years.
Speakers will include:
Frances Fitzgerald, Tánaiste and Minister for Justice and Equality
Gráinne Healy, Social Justice Campaigner
Sarah Duku, Cairdre
Eileen Flynn, Irish Traveller Movement
Claire McGettrick, Justice for Magdalenes Research
Trish Long, Disney
Frances Byrne, NWCI Chairperson
Orla O'Connor, Director, NWCI
Sarah McInerney from Newstalk Radio will chair the event.
At the event, NWCI will give an award for Outstanding Feminist Leadership and also honour women and children who were incarcerated in religiously run, State funded institutions in Ireland.
Please note: This event is free for NWCI members. The fee for non-members, payable at the door, is: 15 Euros (waged), 10 Euros (unwaged)
The event will be followed by NWCI's Annual General Meeting in the afternoon (members only). We kindly asked members to register for the afternoon event separately as outlined in our correspondence with you.
Starts: 8 June 2017 09:30
Ends: 8 June 2017 12:30
Location: Spencer Hotel, Excise Walk, Dublin 1