Endometriosis and Self-Management; Discussion
Saturday, March 27, 2021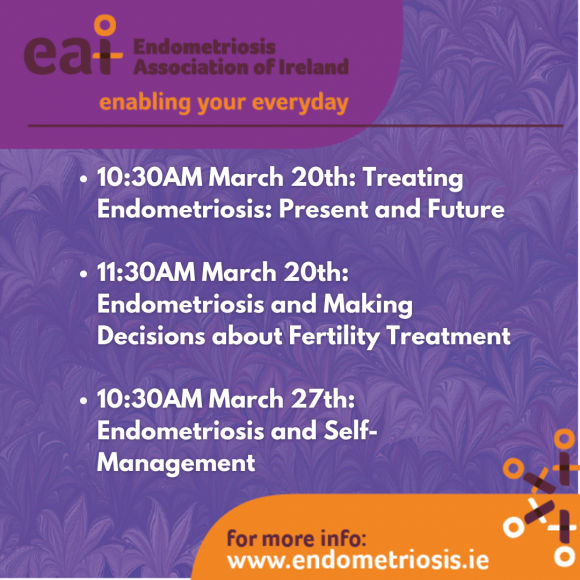 10:30AM March 27th: Endometriosis and Self-Management
Speakers for this panel include:
Aoife Rankin, Organiser, Endometriosis Support Group Galway now the Online Support Group
Lorna Driver-Davies, BA (Hons) HD DHNP CNHC mNNA, Head of Nutrition & Senior Nutritional Therapist at Wild Nutrition, registered naturopathic nutritional therapist
Aoibhin McGreal Chartered Physiotherapist Pelvic Floor & Women's Health Specialist
More TBC
How to submit a question for the event
There are two options to submit a question to panels and speakers at the Information Day.
You can do this during the event over Zoom. We will have a Q&A functionality available for people to use. You can submit questions anonymously if you prefer.
If you want to submit a question in advance, email info@endometriosis.ie with the subject line "Question for info day speaker" and specify to whom you would like to address the question. We will pass along questions, with no identifying information, to the chair of each relevant panel and they will endeavour to make sure your question is asked.
Starts: 27 March 2021 10:30
Ends: 27 March 2021 11:30
Location: Zoom