More Than Two Communities: Marginalized Voices
Thursday, January 27, 2022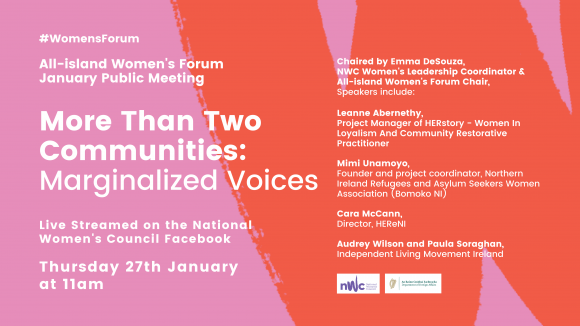 NWC's All-island Women's Forum will meet again next Thursday 27th January at 11am to discuss 'More Than Two Communities: Marginalized Voices'. This public meeting will be livestreamed on our Facebook page and will be available to watch after the meeting has taken place.
Speakers include:
Leanne Abernethy, Project Manager of HERstory - Women In Loyalism And Community Restorative Practitioner
Mimi Unamoyo, Founder and project coordinator, Northern Ireland Refugees and Asylum Seekers Women Association (Bomoko NI)
Cara McCann, Director, HEReNI
Audrey Wilson and Paula Soraghan, Independent Living Movement Ireland
About the All-island Women's Forum
Led by the National Women's Council (NWC), the forum consists of 14 members from the South and 14 members from Northern Ireland. The Women's Forum aims to address underrepresentation of women and further develop women's role in peacebuilding and civic society. The Women's Forum will also support building sustainable North South links, provide a space for marginalised communities and build better understanding and inter-community links. The forum will meet virtually on a monthly basis to identify areas that can be worked on a collaborative basis. Find out more about the forum.
Make sure to tune in on our Facebook Page at 11am on Thursday 27th January to watch the meeting live.
No registration is required for this event
Starts: 27 January 2022 11:00
Ends: 27 January 2022 12:00