National Observatory on Violence Against Women and Girls-16 Days of Action to End Violence Against W
Friday, December 10, 2021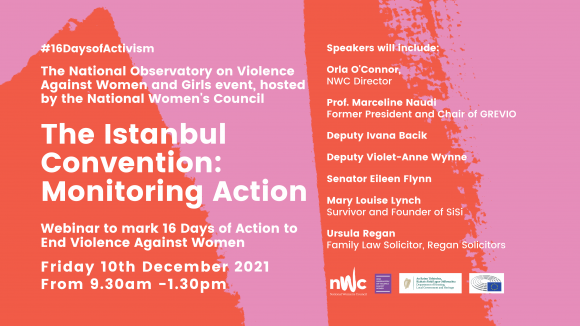 The National Observatory on Violence Against Women and Girls invites you to join us on Friday December 10th, 9.30-1.30 to mark the global 16 Days of Action to End Violence Against Women-' The Istanbul Convention: Monitoring Action '
As Ireland embarks on its first GREVIO country report in 2022 we are at an important juncture when it comes to tackling violence against women and girls. It is also the 30th year of the 16 Days of Action campaign and Ireland's Third National Strategy on Domestic, Sexual and Gender-Based Violence will soon be launched.
Join us as we focus on these key advancements followed by in-depth panel discussions on some of the pressing issues that continue to harm women and girls, including 'Online Harassment & Public Life' and 'Family Court & Domestic Violence'
Speakers for this event include:
Orla O'Connor, NWC Director
Prof. Marceline Naudi, former President and member of GREVIO
Deputy Ivana Bacik
Deputy Violet-Anne Wynne
Senator Eileen Flynn
Senator Erin McGreehan
Mary-Louise Lynch, Survivor and Founder of SiSi
Ursula Regan, Family Law Solicitor, Regan Solicitors
More speakers will be announced shortly.
This event will be supported by ISL interpreters.
About the National Observatory on Violence Against Women and Girls
The Observatory is an independent network of more than 20 grassroots and national organizations that convene quarterly to monitor progress on violence against women in Ireland and is chaired by NWC.

It provides an important space for organisations to work for improved policies and service provision for prevention and support of women victims of male violence.
Starts: 10 December 2021 09:30
Ends: 10 December 2021 13:30