Postponed - NWCI Conference 'After the Eighth - Progressing Reproductive Rights in Ireland'
Thursday, April 02, 2020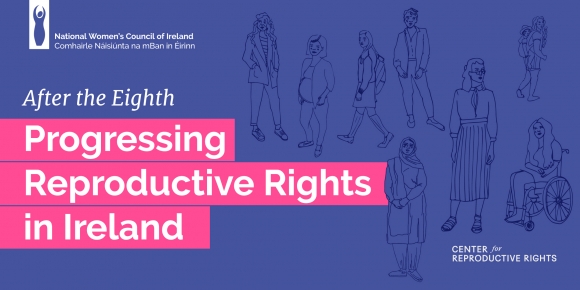 This conference has been posponed until further notice in order to support the containment of the Coronavirus and in the interest of public health.
The National Women's Council of Ireland and Center for Reproductive Rights invite you to a one-day conference in Dublin on sexual and reproductive health and rights.

When: 2nd April 2020
Where: The Richmond Education and Event Centre, 1 Brunswick Street North, Dublin 7.
One year into abortion provision in Ireland, the conference will enable a crucial bringing together of groups working to progress sexual and reproductive rights.
The conference will:
Address recent global developments in sexual and reproductive rights
Assess progress towards a comprehensive model of reproductive and sexual healthcare following the repeal of the Eighth Amendment in 2018, including the first year of abortion care in Ireland
Key note addresses will be delivered by Enid Muthoni Ndiga, Senior Vice President for Global Programme with the Center for Reproductive Rights and Dr Susheela Singh, Vice President for International Research with Guttmacher Institute.
Panelists will include experts and campaigners in the field of reproductive health and rights in Ireland, Northern Ireland and Europe.

Tea/coffee and registration will be open from 10:00am and the conference will commence at 10:30am. Programme to follow.
If you have any questions about this conference please contact Emma Foley, NWCI Reproductive Health Rights Officer, at emmaf@nwci.ie
Starts: 2 April 2020 10:00
Ends: 2 April 2020 15:00
Location: The Richmond Education and Event Centre, 1 Brunswick Street North, Dublin 7