NWCI Members and Friends Meeting - Gender-based violence and women's mental health
Friday, November 29, 2019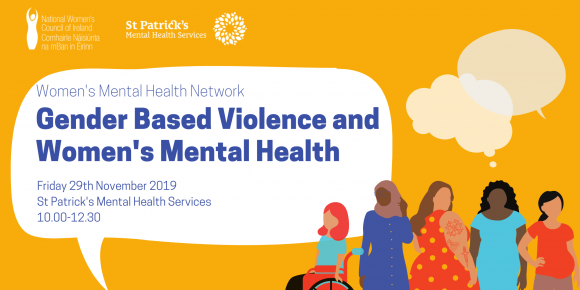 We are hosting a members and friends meeting on Friday 29th November (10.00-12.30) in the Lecture Hall a St. Patrick's Mental Health Services. This meeting will coincide with the fourth meeting of the Women's Mental Health Network.

In support of the 16 Days of Activism Against Gender-based Violence campaign, this event will focus on 'Gender-based violence and women's mental health'.
The event will feature a welcome address from NWCI Chair Ellen O'Malley Dunlop and presentations from Gillian Dennehy, Services Manager for Women's Aid, and Felicity Kennedy, Clinical Supervisor, psychotherapist and former CEO of the Women's Therapy Centre. This will be followed by a moderated Q&A with questions from the audience.

If you would like to attend please register on Eventbrite and please circulate to others who may be interested.
The Women's Mental Health Network has been developed by the National Women's Council of Ireland and St Patrick's Mental Health Services as a network of people and organisations with a committed interest in women's mental health issues.
Please advise Susan McCormack by email at susanmcc@nwci.ie , if you have any special requirements (for example ISL interpretation or accessibility needs) by 18th November. This will help us in our preparations for the event.
Starts: 29 November 2019 10:00
Ends: 29 November 2019 12:30