CANCELLED due to WEATHER! NWCI's Soapbox returns for International Women's Week
Saturday, March 02, 2019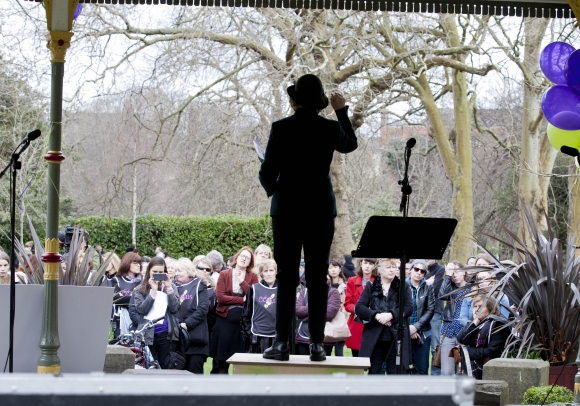 We have taken the difficult decision to cancel the Soapbox tomorrow, 2 March, following advice from Met Eireann.
As you know, the Soapbox is an outside event without any shelter. We have spoken with Met Eireann and the weather is expected to be very gusty with heavy rain at the particular time of the event. It won't be possible to hold up umbrellas and the advice from our sound contractor is that the sound quality will be very poor and there may be a safety issue with regard to the AV equipment. We therefore very reluctantly made the decision to cancel the event.
CANCELLED
On the occasion of International Women's Day, the National Women's Council of Ireland will once again be bringing their custom made Soapbox to the streets of Dublin.
We will be drawing inspiration from many of the early feminists, who began their involvement in political campaigning by speaking out about equality issues on a soapbox on a city centre street.
Women and men, passionate about women's equality will have their say on burning issues, from childcare, health, gender pay gap to violence against women.
The location of this year's Soapbox will be in front of the Mansion House on Dawson Street from 1-3pm on Saturday March 2nd.
Speakers confirmed to date include:
Emma Murphy Domestic Violence Advocate
Avril Hannafin, An Cosan
Jaro Waldeck, Director of Photography, Women and Film & TV
Lorraine Walsh, Cervical Cancer Survivor & Campaigner
Gabi Muntean, Pavee Point
Jim Clarken, Oxfam Ireland
Dr Cliona Murphy, Chair of the Institute of Obstetricians and Gynaecologists
Rita Fagan, Inchicore Resource Centre
Liam Herrick, Irish Council for Civil Liberties
Dominique Meehan, Sexual Violence Advocate
Eileen Flynn, Traveller rights campaigner
Gabi Muntean, Pavee Point
Emma Allen, Abortion Rights Campaign
Erica Fleming, Homelessness Advocate
Sandra Ruiz-Moriana, Migrant Women's Rights Activist and Local Election Candidate for the Social Democrats
And many more...
Others will be online talking on #NWCISoapBox.
Starts: 2 March 2019 13:00
Ends: 2 March 2019 15:00
Location: Outside the Mansion House, Dawson Street