The Women in Medicine in Ireland Network (WiMIN) Conference - Cork
Saturday, March 23, 2019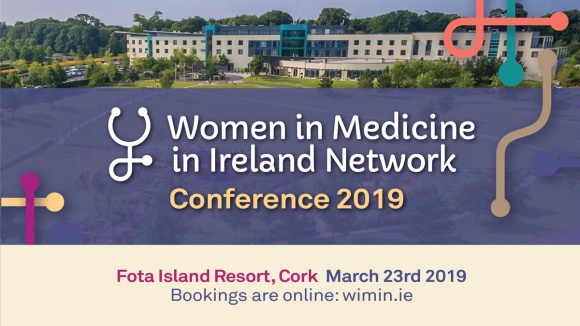 The Women in Medicine in Ireland Network (WiMIN) will be holding its second national conference in Cork on Saturday March 23rd. This will be an opportunity for female doctors and medical students working and studying in Ireland to come together to hear from expert speakers and to share their own experiences.
The conference will take place in the beatufiul surroundings of the Fota Island Resort, where there are self-catering cottages for those who wish to make a family weekend of it, as well as superior accommodation in the main hotel at a reduced rate for delegates. Childcare will be available for the duration of the meeting, as well as baby-feeding facilities. The hotel has a world-renowned golf course and spa, as well as a challenging and fun adventure centre.
Topics covered on the day include health inequality in Ireland and abroad, and we are delighted to welcome Dr Cliona Ni Cheallaigh, St James Hospital Dublin, and Dr Emma Keelan, Physicians for Humans Rights, to describe their experiences of healthcare provision to women in crisis situations.
We will also hear from expert Legal Counsel Aisling Timoney about the imminent Patient Safety Bill and the issues around Open Disclosure.
Qualified Financial Advisor Nives Paic will speak on the subject of Financial Wellness for women.
Sibeal Carolan of the Workplace Health and Wellbeing Unit in the HSE will discuss the work of that department, and give us an overview of mentorship.
Further speakers will be announced in coming weeks.
There will be many opportunities throughout the day to chat, network and catch up with old friends. A relaxed evening will follow, with dinner and entertainment at the Resort.
Registration is now open at www.wimin.ie and costs €100 per person, with a reduced rate of €50 for students. The meeting has been approved for 5 external CPD points. For more information, go to wimin.ie, or follow us on Twitter, Facebook or Instagram
Starts: 23 March 2019
Ends: 23 March 2019
Location: Fota Island, Cork