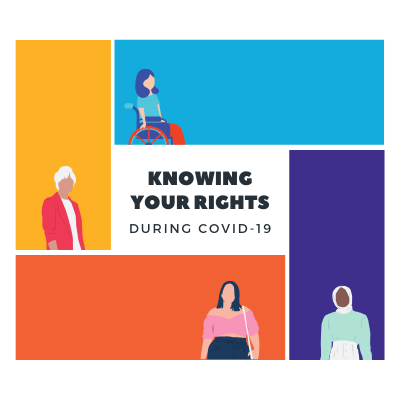 Knowing Your Rights During COVID-19
You may need access to legal information or advice to support you to access your rights and entitlements during this time.
NWCI's Free Employment Law Advice Clinics For Women
The clinics are now operating by phone. If you are worried about your treatment at work or have a legal question you want to discuss in detail, contact our legal officer, Denise Roche, deniser@nwci.ie to arrange an appointment. #IHREC supported and staffed by solicitors from Community Law and Mediation
UCC Family law Covid 19 Information Hub
A useful resource for people seeking guidance on family law issues during these challenging times.
https://www.ucc.ie/en/covid19familylaw/
The Courts Service
If you have court proceedings that have already started you should check the Courts Service website for information. At present many types of cases are being adjourned until later in the year.
A Family Law Statment from the President of the District Court was issed on 26th of March. See https://beta.courts.ie/news/president-district-court-family-law-statement
Ballymun Community Law Centre
The Ballymun Community Law Centre provides free legal advice, representation, legal education and mediation for individuals and groups within the community. Their phone line will remain open and they can take details of your query and refer the matter to the relevant staff member who will contact you. This applies to mediation and legal services.
Phone ballymun Community Law Centre Helpline on 01 862 5805
Community Law and Mediation (CLM)
In response to the increased need for legal information and advice, CLM will be running free legal advice clinics by phone in the areas of social welfare, housing, debt and employment. General queries are also welcome. You can book a phone consultation by phoning 01 847 7804 or 061 536 100. Please leave your name, number and the county you are calling from.
FLAC – for individuals
FLAC is a human rights organisation which exists to promote equal access to justice for all. If you have a legal information query you can phone FLAC on 1890 350250 or 01 8745690.
Mercy Law Resource Centre
Mercy Law Resource Centre is an independent law centre, which provides free legal advice and representation to people who are homeless or at risk of becoming homeless in the areas of social housing and related social welfare law. You can phone Mercy Law Resource Centre on 01 453 7459 or email info@mercylaw.ie
Public Interest Law Alliance - for organisations
Legal Aid Board
The Legal Aid Board have put in place measures to help reduce the risk of spreading the Coronavirus COVID-19. You can find information on seeking legal aid, protection from an abusive partner/spouse or family member, and children being taken into care on the Legal Aid Board website.
Workplace Relations Commission - Information & Customer Service
The Workplace Relations Commission Lo-Call Infoline continues to provide information relating to employment entitlements and obligations, equality and industrial relations matters. You can phone their Lo-Call Infoline on 1890 80 80 90 or 059 917 89 90. Their Infoline hours are temporarily changing to 9.30 to 13.00, and 14.00 to 17.00 Monday to Friday.
Immigrant Council of Ireland
The Immigration Council of Ireland helpline is operating remotely during COVID-19: For updated information see https://immigrantcouncil.ie/news/office-closed-due-covid-19
Migrant Rights Centre of Ireland
MRCI is a national organisation working for justice, empowerment, and equality for migrants and their families. You can find information on accessing healthcare, social welfare, and any immigration or employment concerns. You can phone MRCI on 01- 8897570, contact their website or email info@mrci.ie , Mon to Fri, 10am to 4pm.
Find updated information on MRCI website.
Threshold
If your tenancy is at risk or impacted in any way as a result of the COVID-19 pandemic you can contact Threshold by phoning 1800 454 454 or by filling in their contact form
We are seeking to provide the most up to date and accurate information as possible. We are asking our members to send us information on services they are providing for women during COVID-19.
If your organisation is offering supports for women or has resources relevant to women during COVID-19 please email them to Silke at silkep@nwci.ie
Further information for women during COVID-19: