World Community Development Conference: Speakers announced and Bursaries available
Sunday, June 24, 2018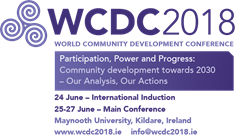 Community Work Ireland, the International Association for Community Development and Maynooth University will host the World Community Development Conference in 2018. Participation, Power and Progress:Community Development towards 2030 – Our Analysis, Our Actions
The conference will encompass cutting edge inputs, papers, creative installations and poster presentations on rights-based community development, addressing and engaging locally, nationally and internationally with key current issues including:
• Change and transformation
• Impact and outcomes: Measuring and monitoring
• The role of state agencies, regional and local authorities
• Current rural and/or urban challenges
• International development
• Community economic development
• Environmental justice and sustainable development
• Women's rights
• Gender
• Poverty
• Migration
• Racism
• Indigenous peoples and minority rights
• Disability
• Health
• Community development standards, education and training
• Community development and other disciplines
• Civil and political rights
• Economic, social, and cultural rights
Mary Robinson will join a host of national and international speakers in what will be an exciting event for community work in Ireland.
The organisers are anxious that Irish-based community work practitioners are facilitated to participate, either by attending or presenting at the conference, and as you probably also know, CWI is always anxious to encourage community workers to write or document their work. To this end, a message from the conference organisers is below on:
Making a contribution
The World Community Development Conference is a unique chance to share and showcase Irish community work practice and the work of community projects and initiatives in Ireland.
Would you like to make connections with other community workers in Ireland and from all over the world? Are you interested in making a contribution to the World Community Development Conference in Ireland this summer?
The organising group of WCDC2018 welcomes your contribution! It's not all about writing or making a formal presentation. We are encouraging a variety of forms for contributions.
Please tell us about the contribution you would like to make.
It could be a presentation as part of a panel of presenters to a small group of 20-30 participants (15-20 mins).
It could be a practice workshop (1h hour approx. to 20-30 participants).
It could be a poster presentation (posters displayed and one to one conversations with participants)
It could be a film screening or other visual arts response, we are interested in your suggestions! If you make a proposal like this please indicate how much time might be allocated.
All contributions should be related to one or more of the conference themes above.

You can make more than one submission if you wish and submissions can be made without prior registration.

Please ensure that you are registered so that you will receive information about accommodation and other relevant information. If you are applying for the reduced rate (see below) please register but do not make the payment. You can register for the WCDC2018 here
Reduced Fee for Irish-Based Participants
Additional Information for Prospective Participants Living in Ireland
The conference organisers are committed to including as many interested people as possible in the conference which is already attracting huge international interest with places filling up fast.

Because of Irish state subsidies, a limited number of places are available at €150 for community work practitioners and participants living in Ireland.

For consideration under this process apply before March 1st 2018 by completing the application.

For additional information please email bursaries@wcdc2018.ie
Starts: 24 June 2018 10:00
Ends: 27 June 2018 17:00
Location: Maynooth University, Kildare, Ireland