'It Stops Now' – ESHTE Project Update
Published: Monday, December 18, 2017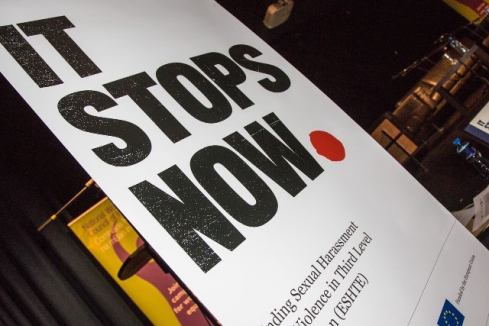 'It Stops Now' Workshops at Femfest 2017
25th November 2017
We were delighted to host two 'It Stops Now' workshops at this year's NWCI Femfest event held in Liberty Hall on the 25th November. We explored how women students in Ireland feel when it comes to support and information on sexual violence and harassment in their schools and colleges.
Some of the young women attending had already been involved in establishing campaigns or workshops on the importance of consent so were able to contribute fantastic ideas and initiatives that previously worked well with students.
Many felt that there was simply not enough being done to tackle the problem from an institutional level and the 'myths' around rape and sexual assault were still very prevalent among students.
We valued everyone's input at this workshop and our focus groups and meetings with young women students will continue to inform our 'It Stops Now' Campaign, which will be rolled out in colleges and universities across Ireland next year so watch this space, or contact our staff for more information.
ESHTE Project Partner Steering Group Meeting
12th and 13th December 2017
The ESHTE Project Steering Group meeting took place in Brussels at the beginning of December. The meeting was a fantastic opportunity to hear about how our project partners in Cyprus, Lithuania and Scotland have been working with students and staff to progress the 'It Stops Now' Campaign.
Some of our partners presented interesting feedback from student and staff focus groups held this year. The information will help inform the development of our toolkit to support college staff and students to establish a strong framework to combat sexual violence and harassment in third level education by supporting and training staff and students.
We look forward to continuing our work with our European partners next year.
For more information on the 'It Stops Now' Campaign, see the website, or contact the ESHTE Poject Officer Sarah Henry at sarahh@nwci.ie