Feminist Futures
Thursday, June 11, 2015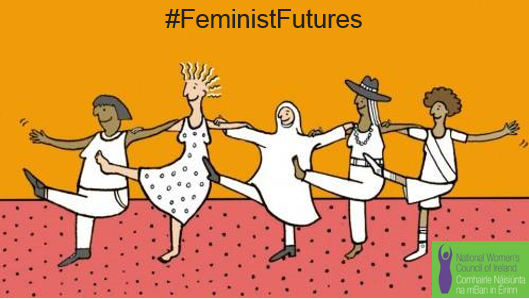 Building on the theme of last year's AGM, "So, Tell Me Why We Still Need Feminism?", this year, NWCI's AGM will explore the theme of "Feminist Futures". As we are told that Ireland is entering a period of economic recovery, it is more important than ever that we build a new Ireland based on feminist principles.
Feminism is undergoing a resurgence, and now more than ever, we are applying a gendered lens to the world we live in.
The result is tussling over what feminism means in a contemporary context, a cacophony of diverse feminist voices exploring what a feminist future would look like – the end of violence against women, placing a real value on care and care work, reproductive rights for all women, affordable, accessible childcare…
Minister for Justice and Equality, Frances Fitzgerald will open the event.
In the lead up to the 1916 Commemoration, it is important to ask what independence meant for women, and explore how feminists fought for social change since Independence. We are very excited to confirm Mary McAuliffe, historian and expert in gender and social history as a speaker.
Flying in from Montreal to discuss what feminism means for young women, and how we can build a feminist future is Galway woman Emer O'Toole, Guardian columnist, author of 'Girls Will Be Girls', self-described 'hairy feminist', and 'one of the leading lights of new feminism'.
Secretary General of the Ueropean Women's Lobby, Joanna Maycock, will give an international perspective, while journalist and Sunday Independent columnist Carol Hunt will Chair proceedings.
Why not join the conversation on Twitter, telling us what's in your ideal future, using #FeministFutures.
There are limited spaces, you must register for the event here.
The "Feminist Futures" morning event is open to all. The event will be free for members and €25 for non-members. At €60 for waged and €20 for unwaged, why not become a member of NWCI and join us in creating a new feminist future?
Starts: 11 June 2015 10:00
Ends: 11 June 2015 13:00
Location: Ashling Hotel, Parkgate St, Dublin 8