Migrant Rights Centre Ireland

Address: 55 Parnell Square West,
Dublin 1
Telephone: 01 8897570
Fax:
Email: info@mrci.ie
Website: www.mrci.ie
Twitter: @MigrantRightsIr
Domestic Workers Action Group
In 2003 The Migrant Rights Centre Ireland set up the Domestic Workers Support Group (Now called the Domestic Workers Action Group) in response to growing reports of difficulties experienced by migrant domestic and care workers living and working in Ireland.
The Core focus of the Domestic Workers Action Group is to provide a space for domestic workers employed in the private home to come together, analyse their experiences and campaign for policy and legal changes to improve their position in Irish society. The group aims to provide a safe and empowering environment for domestic workers to seek equality as women and as workers. Click here to view the Domestic Workers Action Group Opening Doors Exhibition.
The Domestic Workers Action Group will have a Domestic Workers Action Week next April/May to promote domestic work as work, to create awareness about the issues Domestic Workers Face and to fight for new legislation to regulate and protect migrant domestic workers in Ireland.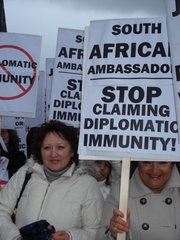 At the end of 2009 the DWAG held a protest outside the South African Embassy at the Embassy's decision to seek diplomatic immunity in a case of woman who claimed to have been unfairly treated while working at the Embassy.
The NWCI issued the following press statement;
The National Women's Council of Ireland today expressed their concern at the decision of the South African Embassy to invoke diplomatic immunity in the case of a migrant domestic worker Valentyna Khristonsen.
"We are extremely disappointed that the South African Embassy and the South African Ambassador Pricilla Jana are unwilling to permit the hearing of a woman who claims that her rights were violated while working at the Embassy", said Rachel Doyle, Head of Outreach and Support of the National Women's Council of Ireland. "South African Diplomats are all too aware of the importance of a fair hearing to the achievement of justice, rights and freedom. We urge the Embassy to waive diplomatic immunity at this point to ensure that all parties are given the opportunity to present their case and a just conclusion is reached".
[smYouTube id=XVAMSTK3oNU]
We also have a Domestic Workers Action Group Facebook Group.