Caring for #EveryWoman's health needs
Published: Tuesday, February 06, 2018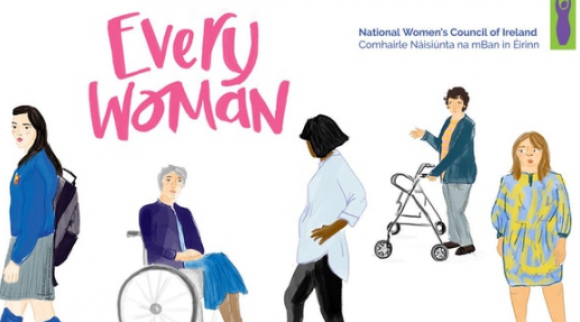 The National Women's Council of Ireland (NWCI) will be launching Every Woman - Affordable, accessible healthcare options for women and girls in Ireland in the Mick Lally Theatre in Galway today.
The Every Woman model is based on consultations with NWCI members and women and men from across Ireland and sets out what reproductive healthcare services, including abortion, women and girls need. The launch follows the Cabinet announcement that there will be a referendum on the Eighth Amendment in early summer.
Orla O'Connor, Director of NWCI said,
"Reproductive health matters at all stages of our lives, from sexual health education in schools to menopause services. Currently, the Eighth Amendment is a barrier to ensuring that all of women's healthcare needs are provided for in this country, With Every Woman we are putting forward a model where doctors can care for all women and girls in this country. Our model is based on the understanding that the person who can best protect a developing pregnancy is the pregnant woman herself, in consultation with her doctor. Every pregnancy is different and every woman's decision in pregnancy is always deeply personal and private, never political. We believe that our approach reflects the views of many people in Ireland who are looking for controlled change as part of the upcoming referendum."
Orla O'Connor concluded,
"Every Woman includes a proposal for a possible way forward that is very much in line with the Government's plans on this issue. Healthcare decisions are always complex. This complexity has no place in the Constitution. This is why we must remove the Eighth Amendment from the Constitution and introduce legislation in line with the recommendations of the Joint Oireachtas Committee on this issue. This includes a protected period in early pregnancy where a woman can access abortion care if she needs to in consultation with her doctor. Where a wanted pregnancy turns into a crisis pregnancy at a later stage in pregnancy, we advocate for legislation that would allow for restricted access to abortion where it is considered medically necessary to protect the mental and physical health of the woman, and where there is a nonviable pregnancy. These 'protected treatments' would allow medical professionals to care for women in sometimes extremely difficult and distressing circumstances and support women, couples and families in making these decisions.
With the launch of Every Woman today, we are inviting everybody to join in our conversation about what reproductive healthcare services we need for women and girls in Ireland."
Speakers at the event include:
Garry Hynes, Artistic Director, Druid Theatre Company (video)
Máirín O'Nualláin, Psychiatrist
Elaine Byrnes, Doctoral Researcher in NUIG School of Psychology
Dorothy Melvin, Co-Founder of the Family Planning Clinic Galway
Orla O'Connor, NWCI's Director
The event will be chaired by Olwen Dawe, NWCI board member
More information about Every Woman is available on www.everywoman.nwci.ie
Ends/
For more information, please contact Silke Paasche, Head of Communications, NWCI, Tel. 085 858 9104.