Caring for yourself during the Referendum Campaign
Published: Monday, May 14, 2018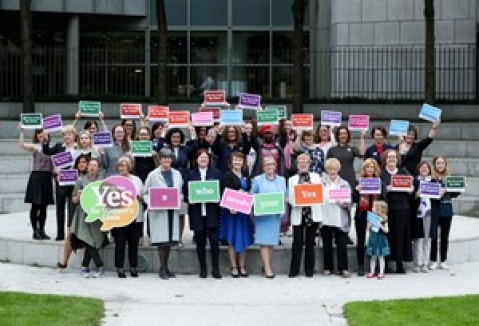 NWCI believes it is vital to support, respect and protect women at all times, but especially during and after this historic Referendum campaign. In particular, we must acknowledge the possible impact of the campaign on women and their partners with personal experience of crisis pregnancy and pregnancy loss.
Care for women
While not every woman will be finding the Referendum campaign hard, the media coverage and the general discussion of the campaign may be difficult for some women who are pregnant, women who have had abortions, miscarriages, traumatic births or who have fertility difficulties. Each woman will experience different feelings and will want to deal with it in a way that is right for her.
It is important that women who are finding it tough have access to supports and can talk about their experiences. Our member groups, the IFPA and Dublin Well Woman, offer counselling to women. Women can reach out, whether their own experience of pregnancy was last week or 30 years ago. Our members in the Dublin Rape Crisis Centre and Women's Aid provide support to women experiencing sexual and domestic violence. The Samaritans also offer a safe space for people to talk about whatever issue is getting to them.
SUPPORT CONTACTS
Dublin Well Woman Centre – free after abortion counselling, whether 3 weeks, or 20 years after. 01 3749243.
Irish Family Planning Association – free post-abortion counselling can be booked through the National Pregnancy Helpline 1850 49 50 51. Counselling is available in ten centres countrywide.
Dublin Rape Crisis Centre – offer help and support to anyone who has experienced sexual violence of any kind. This may have been recently, some years ago or in childhood. 1800 77 8888 or email counselling@rcc.ie
The Women's Aid 24hr National Freephone Helpline – offers confidential information, support and understanding to women in the Republic of Ireland, who are being abused by current or former boyfriends, partners or husbands. 1800 341 900
Samaritans - offer a safe place for you to talk any time you like, in your own way – about whatever's getting to you. Free phone – 116 123. Text: 087 2 60 90 90 Email: jo@samaritans.ie
Care for Campaigners
NWCI appreciates the huge energy and effort that campaigners across the country have invested in canvassing, running stalls, attending events and having conversations with family and friends. As the campaign has now comes to an end, it is really important to look after yourself, to take some time out and practice self-care when you need it.
While there's no right or wrong way to do it, here are some self-care ideas that may help:
Take time for yourself – read for fun, re-watch your favourite film
Spend time with family and friends
Ask for help when you need it
Call or check in on people who are important in your life
Know your limits, be honest with yourself about how much you can share about your own experiences
Sit in a comfortable chair, close your eyes and take some nice, deep breaths
Take time to prepare a healthy meal, go for a walk, do some exercise, or whatever helps you relax
Be aware of triggers that make you upset and know when it's time to take a breather
Allow yourself to cry if that feels right
Recharge your energy by turning off your phone and your computer for a while
Say no to extra responsibilities sometimes
Take a break from doing things to notice how you are feeling
Step away from social media for a while. Use the Twitter Repeal Shield to block distressing messages
If you have been personally affected by issues being discussed in the campaign, get in touch with relevant professional supports
Spend time outside in nature