Flowers for Magdalenes, Glasnevin, Dublin
Published: Tuesday, February 27, 2018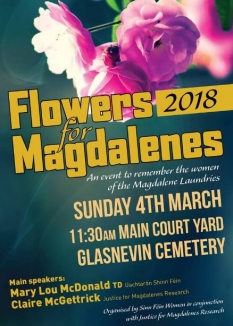 Lay a flower to remember the women and girls of the Magdalene Laundries

This annual family friendly event takes place at 11:30am Sunday 4th March in the main courtyard of Glasnevin Cemetery.
The main speakers on the day include Claire McGettrick, Justice for Magdalenes, and Mary Lou McDonald, Sinn Fein President.

Don't forget to bring your flowers!