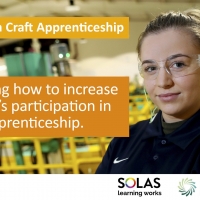 Women in Craft Apprenticeships
Published: Friday, February 02, 2018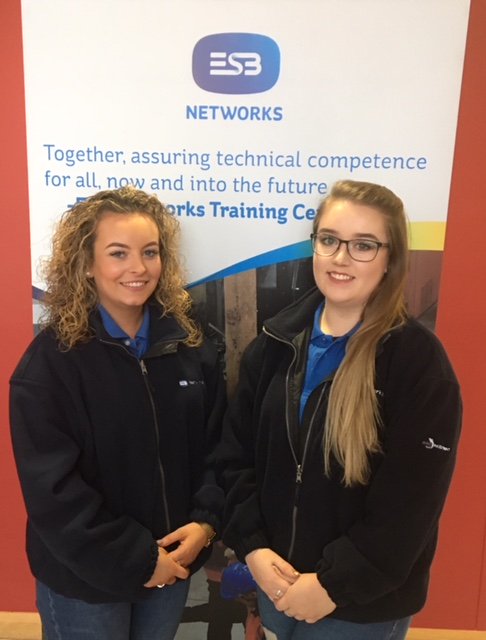 We met Laura and Ashleigh, two Apprentice Electricians with ESB at a recent event organised by Solas and the ETBI on Women in Craft apprenticeships. NWCI have been working with Solas to support them to develop initiatives to increase the numbers of female apprenticeships. We gave a presentation on the economic inequalities experienced by women, national and international commitments and ideas on how to achieve more of a balance. In the National Strategy for Women and Girls 2017 - 2020, the Government have committed to increased female participation in apprenticeships. Solas have also made a commitment in the Action Plan to Expand Apprenticeship and Traineeship 2016 - 2020. Currently, 52 women are on a state apprenticeship this year against 9,535 men. ESB Network spoke about their efforts to target girls and women onto their programme and the supports in place to ensure it is a enjoyable and rewarding experience. Solas had carried out research into the barriers experienced by girls and women which included
self confidence among young women and girls
Anxiety around male dominated work environments
influence of teachers and parents
Laura and Ashleigh kindly agreed to be interviewed to share their own experience.
How did you initially get interested in applying for an apprenticeship with ESB? Did anyone in particular influence your choice?
Laura: I initially was interested in the apprenticeship as two of my friends were doing the apprenticeship with the ESB at the time, the were telling me all about it and it sounded so interesting. At the time I was studying civil engineering in college, but I felt it was not hands on enough and not really what I was looking for, when I heard what the apprenticeship was all about I was so interested and applied straight away. My friends would have influenced my choice as they were really enjoying what they were doing.
Ashleigh: I knew an apprenticeship was for me when I realised I didn't know what college course I wanted to do and I didn't want to walk out of a classroom after 3/4 years with little or no experience. When I saw an advertisement on Facebook for the ESB apprenticeship, I got in contact with a Laura who I knew had already started the apprenticeship to see what it entailed, and to be honest I didn't find any disadvantages to it.
What are you doing now and what are your future career plans?
Laura: I'm currently in high voltage stations in Inchicore. I'm really enjoying it here. I was streamed here which means I'll finish out my apprenticeship here, till September. I hope that if I get a full time job afterwards that I would be based here. There is such a variety in the work that's carried out and so much to learn every single day.
Ashleigh: I'm currently a 3rd year Apprentice Network Technician in ESB Networks, based in Leopardstown. At the moment my future plans are to get a number of years experience as a network technician and within 5 years start my degree in Engineering.
What were the challenges, and what surprised you about the work environment and the experience overall?
Laura: My experience overall, has been nothing but positive. The lads have been so supportive and helpful with everything. I never felt like I didn't fit in, they always made me feel so welcome. The people I work with are really good at what they do and I feel like they teach me loads and explain things in a way that's easy to understand.
Ashleigh: What surprised me the most was how welcoming the men were, I was of course a little nervous starting out in a male dominant job but really I had nothing to worry about. I was treated as part of the team from day one. My main challenge was getting used to a working environment that I had not been exposed to before in school or previous jobs.
What do you think are the biggest challenges to getting more girls and women into the craft apprenticeships?
Laura: I think for some reason girls think that it will be scary because there are mostly men in here, I wish that I could just reassure them that it's not daunting at all and they are all so nice. I genuinely haven't had one bad experience in the three and a half years I've been here. Also I think that they may think that it's just heavy boring work, if they knew what we do, and the variety of work every day I know they would actually think it's really interesting and fun and I'm learning loads while working and getting paid at the same time.
Ashleigh: Personally, I think there is a two main challenges. Firstly, I feel there is defiantly a stereotype still around craft apprenticeships, that girls and women aren't physically able or won't be welcome, due to crafts being male dominant for many years. Secondly, girls and women see it as a last resort if even that, they might not see it as a job that they can progress within.
What are practical things that government, educators and employers can do to support girls and women to consider this route?
Laura: Continue to advertise on social media and show clips of some of the work we carry out. Explain more what is actually involved in the apprenticeship as I don't think enough people actually know what's involved.
Ashleigh: More promotion and information publicised within schools, websites, newspapers etc. When I was in school unfortunately I was never given the information about any apprenticeship, I was mostly pushed towards 3rd level education and it was looked down upon if I didn't go by pupils, teachers and family members. I also think the government and employers should have more policies and procedures against discrimination. I'm thankful ESB networks already has procedures set up, if it is needed.
What do you hope to see in relation to girls and women taking on different roles in the next 5-10 years?
Laura: That women will be given the same opportunities as men. A higher number of women in apprenticeships.
Ashleigh: I hope to see more women being confident enough to challenge the stereotypes that women don't belong in certain jobs.
For more information on apprenticeships click here.