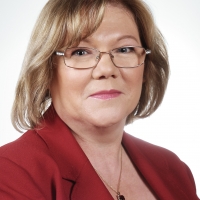 Women working in Equality - Meet Therese Murphy from EIGE
Published: Friday, May 12, 2017
Meet Therese Murphy, former NWCI Chairwoman, now Head of Operations at EIGE, the European Institute for Gender Equality! Therese talks about gender equality data, career change and living in Vilnius, Lithuania.
What does EIGE do?
The European Institute for Gender Equality (EIGE) is an autonomous research (not policy) body of the European Union. It works within the framework of the European Union institutions, collating data, conducting analysis and providing data on Gender Equality at EU and member state level. It's goal is to strengthen the promotion of gender equality, including gender mainstreaming in all EU policies and the resulting national policies, and the fight against discrimination based on sex, as well as to raise EU citizens' awareness of gender equality.
EIGE's gender statistics database and reports, centred on economic, social and political shperes, allow for better policy making and research by governments and organisations. EIGE operates on a 3 year plan and we're currently in the 2017-2019 phase. Easily accessible on our website, this gender equality data on an Irish and European level could be very useful for NWCI members or anyone looking for the latest gender equality facts and figures. The factsheets are particularly interesting (Ireland). For country comparison, tick the countries required. Other interesting data includes reports on a wide range of policy areas such as Women in Decision-making. September/October 2017 will the see the launch of important reports on:
1. Gender related challenges in education systems
2. Gender based violence Administrative Data collection
3. Segregation in education and the labour market
4. Gender Budgeting
5. Estimating numbers of girls at risk of FGM in 6 member states
6. Release of the 3rd edition of the Gender Equality Index
Tell me more about EIGE's set-up, structure and staff, involvement of member countries?
I've been Head of Operations at EIGE since 2014. Set up in 2010, EIGE has 27 established staff and 23 contract staff. We liaise with all 28 member states.
Where does EIGE collects it stats from and what index does it use?
We work with member states and at EU level to collect data. Sources also include Eurostat, Eurofound (based in Dublin) and the EU Commission (e.g. Eurobarometer). The Institute's data and analysis is scrutinised and peer reviewed both by members of EIGE's Experts Forum and then external contracted experts.
Tell me how you first got involved in Gender Equality and how did you find yourself in your current role at EIGE in Vilnius?
I first started out on the ESB trade union committee, becoming the equality contact in my branch, then moved on to the ESB equality committee and finally I was elected as the ESB Equality officer for 3 years. I was also a representative on the Irish Congress of trade unions. My work in gender equality continued with election to the NWCI Board and then NWCI Chair 2006-2010. At a European level, I joined the European Women's Lobby EWL Committee and then became vice president of EWL. Following my election as President of the Energy Services Union in 2010, I joined EIGE in 2014 as Head of Operations. It's been quite a journey but incredibly rewarding and energising!
What is it like to be Head of Operations of an EU Body in a foreign country?
It can be very hard work serving the European Parliament, the EU Commissions and the all the various Commission Directorate Generals, European Council and 28 Member States. Together with the travelling it's intensive – you just do it!
What has surprised you most about working with EIGE?
It takes a lot of time to get things done between consulting and bringing people, member states and organisations with you to reach agreement - all of whom have different languages and cultures. Let's just say I have gained a vast array of new skills and also learned a tremendous amount about myself.
Another interesting outcome has been the importance of providing an understanding of gender mainstreaming to people and member states who are still learning about it and demonstrating to them how best to use it for policy. This involves showing the real value of the data and reports, the gender inequality gap and supporting member states in best practice solutions to bridge the gap. Our reports show that in reality the effect of improvements in Gender Equality would result in an increase in GDP by 10%.
What does EIGE find most challenging about collecting data?
Firstly, it can be an expensive process. Secondly, there is the challenge of data harmonisation with varying data indexes across 28 member states all with differing EU entry dates and cultural norms and laws. For example in some countries family violence could include brother to brother violence and in places such as Ireland domestic violence is not criminalised. Fortunately progress is being made in this area with the EU's Victim Rights Directive and the impending ratification by many EU countries in 2019 of the UN's Istanbul Convention.
What are your areas of special interest?
Combating Violence Against Women, Education, Employment, I am most proud of EIGE's work on Gender Based Violence and creating a set of definitions and indicators specifically for the EU on data according to Intimate Partner Violence, Femicide, and Rape.
If you could change two things about data collection in Ireland what would it be?
A lot of data is not de-segregated according to sex. Unless we can break data down according to the differences between women and men, it's very hard to see and provide solutions. Also current data on household income is at the family level, not the level of the individual and is not indicative of real time poverty and therefore does not properly reflect those at risk of or undergoing of poverty.

What do you think will change about data collection trends & requirements in Ireland over the next 5 years?
Ireland actually has a high standard of data collection in Europe yet still has considerable room for improvement with collecting administrative gender equality data on gender-based violence and healthcare. Both the Gardaí and COSC will be required to step up their data collection and analysis, given EU obligations under the Istanbul Conventions, Victim's Rights Directive and the Eurostat Prevalence Survey on Violence against Women due to be carried out in 2019.
The interest in Gender Equality seems to be growing in some countries and regressing in others – any thoughts on this?
The facts are clear: Gender Equality is better for society and the economy. EIGE's Gender Equality reports to be released in October 2017 will show those countries that allow for better Gender Equality enjoy higher numbers of people in employment, increased economic output, higher wages and better social conditions.
Tell me about someone who has influenced your decision to work in Gender Equality?
I am most inspired by the everyday women I have encountered throughout my career working in equality both at home in Ireland (Trade Unions & NWCI) and in Europe the European Women's Lobby. I admire their integrity, their energy and their perseverance to ensure that women should and can play an equal part in society and that unless they do so poverty and inequality will be perpetuated.
What was the most challenging point in your career?
My biggest challenge has been a working mother of 3 children and trying to be a good parent whilst making a difference in society. As a society we need a mind-shift and more support for working families to achieve that important work-life family balance and not be forced to choose between them.
What is it like living in Vilnius?
I really enjoy living here in Vilnius. With a population of 200,000, Vilnius is a beautiful historic medieval city and is actually listed on the UNESCO World Heritage List. It has fantastic winters with lots of snow for six months of the year and then very hot summers for. In many ways Lithuania is very similar to Ireland in that it has 3 million people and a strong Catholic and family orientated culture. What with family commitments, I try to get back to Ireland once a month. If you want to know more about Vilnius click here and here.
Therese Murphy is Head of Operations at the European Institute for Gender Equality in Vilnius, Lithuania. The views expressed do not necessarily represent the views of NWCI.