Invitation to the third annual International Herstory Light Festival
Published: Wednesday, October 24, 2018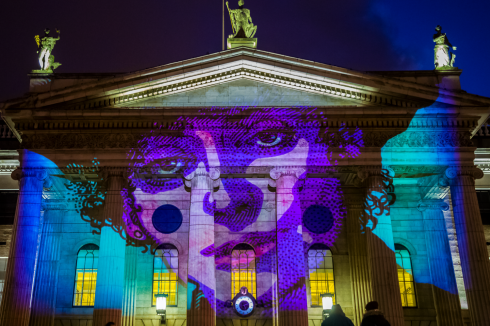 Herstory invites NWCI sister organisations to participate in the third annual International Herstory Light Festival, on the 4-7th January 2019, the weekend of Nollaig na mBan (Women's Little Christmas). This is a wonderful opportunity to celebrate the women you love and start the New Year in feminist style!
In January 2018, the festival made the RTÉ 6.01 News Headlines with our illuminations of the suffragettes on the GPO. Only in its 2nd year, the festival went international with participation in the USA, UK, Spain, Sweden, France, Lithuania, Slovenia, and Poland. For 2019, the Department of Foreign Affairs is championing participation in the Herstory Light Festival across the Irish Embassy network worldwide.
A FESTIVAL FOR THE PEOPLE
The beauty of light festivals is everyone can get involved - you can light up a national landmark or your living room. It's so simple. All you need is a light projector and some images from family photo albums or local archives. And there's no shortage of light projectors - you will find one in every classroom and boardroom.
From Monday 7th January 2019, the first day of the new school term, the #IlluminateHerstory theme is Voices of the Future, when students are invited to participate in special workshops, illuminating classrooms with their heroines and visions for a #WorldofEquals throughout the month of January.
HOW YOU CAN GET INVOLVED...
FOLLOW US ON SOCIAL MEDIA
Facebook: /HerstoryIreland
Twitter: @HerstoryIreland
#IlluminateHerstory
Please spread the word to kindred spirits!