Talking about Every Woman
Published: Thursday, February 22, 2018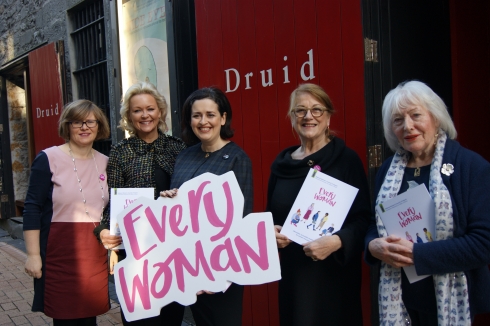 After the successful launch of NWCI's Every Woman Healthcare Model - Accessible, affordable healthcare options for all women and girlsl last year, we have been busy over the last few weeks talking to as many people as possible and raising awareness about the need to remove the Eighth Amendment from the Constitution and recognise abortion as a necessary element of our healthcare services.
NWCI in the media
NWCI welcomed the Cabinet decision to hold a referendum on the Eighth Amendment and the draft referendum Bill when it was brought to Cabinet earlier this week. Earlier we highlighted the importance of a protected period in early pregnancy where all women who need abortions can access the necessary healthcare in consultation with their doctors.
Every Woman launch in Galway
On the 6th February we launched Every Woman in the Mick Lally Theatre in Galway. Speakers included: Dorothea Melvin, Co-founder of the Galway Family Planning Clinic; Dr Máirín Ni Nualláin, Psychiatrist; Elaine Byrnes, Doctoral Researcher in NUIG School of Psychology; Orla O'Connor, Director, NWCI and Garry Hynes, Director of Druid Theatre sent a video message. Olwen Dawe, NWCI board member, chaired the event.
Open Conversations on the Eighth Amendment, Pregnancy and Reproductive Healthcare
We have been travelling the country facilitating non-directive conversations on the Eighth Amendment, pregnancy and reproductive healthcare. In recent months, we have been to Waterford, Longford, Galway, Clare, Roscommon, Westmeath, Wicklow, Carlow and Dublin. We will travel to Cork and Kerry this week and plan to get to as many places in Ireland as we can before the upcoming referendum. The purpose of the conversations is to provide a safe space for discussion, present non-biased facts and allow participants to explore in greater detail their own views on these issues. If you would like to host an open conversation in your area, please get in touch with us by contacting Michi Hyams: Michi.hyams@nwci.ie