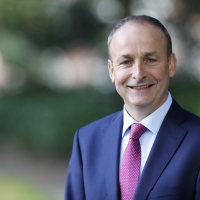 #FemGen 2020 - Micheál Martin, Fianna Fáil
Published: Sunday, January 26, 2020
As part of our #FemGen general election campaign 2020, NWCI has asked the party leaders of the main political parties to outline their commitment to women's equality by answering four questions.
Do you consider yourself a feminist?
Absolutely - as a republican, one of my core values is equality and creating a society where everyone can reach their full potential. When I look at my own children, particularly as they begin their careers, I am committed to fighting for a society where my daughter has the same opportunities as her brothers. As a nation we have taken strides to address inequality between men and women, but a lot remains to be done. As a politician and party leader I am committed to working towards a fairer Ireland.
What has been your biggest achievement for women's equality to date?
I strongly believe the 32nd Dáil was correct in holding a referendum to repeal the 8th Amendment. Voting in favour of repealing the provision was not an easy decision for me. As more and more women came forward to tell their stories, I had to examine myself and my own conscience. I couldn't get past the question - who am I to impose upon those women an obligation to proceed and have the baby?
Fianna Fáil has a proven record in providing leadership in the field of equality legislation. I am proud to have been a part of the Fianna Fáil Government which brought in the ground-breaking Employment Equality Acts and the Equal Status Acts.
What is the most important change that you want to achieve for women's equality if elected as Taoiseach?
The underrepresentation of women in political life undoubtedly contributes to gender inequality. The case for greater female representation is clear: greater female representation would improve the quality of decision making and would deliver more effective representation for women voters. 136 of the TDs elected in 2016 had been a councillor at some point in their career, which amounts to 86% of TDs. We cannot possibly expect to increase female representation in the Dáil on a sustained basis if we do not introduce gender quotas in local elections. I am committed to introducing gender quotas in local elections.
I have heard from countless women who are deeply frustrated by the lack of availability of high-quality, affordable childcare. If elected Taoiseach, I will make it my goal to build a childcare system that provides high-quality and dependable childcare to all Irish families. This would go a long way in assisting women reach their potential in the workplace.
Will you commit to having a gender balanced cabinet?
Fianna Fáil is running more women than any other party in this general election. All 6 of our female TDs are running again, and we have another 20 female candidates. A lot of these are very strong candidates, that would bring a lot to the table. For example, Catherine Ardagh has a strong legal background; Sandra Farrell has experience in the healthcare system. We hope that as many women as possible are elected and I would of course aim to have a gender balanced cabinet if returned as Taoiseach.
Find out more about NWCI's #FemGen General Election Campaign 2020