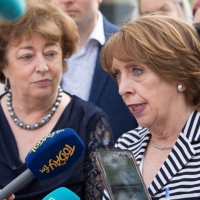 #FemGen 2020 - Catherine Murphy and Róisín Shortall, Social Democrats
Published: Sunday, January 26, 2020
As part of our #FemGen general election campaign 2020, NWCI has asked the party leaders of the main political parties to outline their commitment to women's equality by answering four questions.
Do you consider yourself a feminist?
Yes, unequivocally. Equality is one of the key principles that drives our party and feminism is equality. Women are the largest minority in society, so gender equality sits very high on our list of priorities and informs all of our policies.
What has been your biggest achievement for women's equality to date?
We are extremely proud of our very active involvement in the Repeal campaign and our respective local Together4Yes groups. But for many years prior to Repeal, we have fought for social change at a personal, local, and national level.
Gender equality remains a fundamental principle of our policies as we our party has grown. Most recently, we have advanced the rights of families through our Parental Leave Bill. This has had a huge impact on the lives of working mothers to achieve greater balance in their lives and we have been overwhelmed with the positive response from families enjoying this change.
Of course we also established a political party led by women, with women in senior roles, and fielding the largest percentage of female candidates in the upcoming General Election. In fact we are the first political party in Irish history to have a majority of women running for us.
What is the most important change that you want to achieve for women's equality if elected as Taoiseach?
We will prioritise childcare; the great leveller. A nordic socially democratic approach which sees childcare as a public service is crucial to women's equality. It contributes to the gender pay gap, the experience of lone parents, child poverty and many more areas.
Health is a platform priority for us and that includes the unique health needs of women. We will ensure that healthcare for women is the best in the world, that religious influence of hospital ownership is removed and that the implementation of the abortion legislation is effective for all women.
We will care for the most vulnerable women in society and provide crucial services which we currently lack for women experiencing domestic violence, women experiencing homelessness, and women in marginalised groups of society. Improving the lives of women has been proven to improve the lives of families and communities.
We will amend the archaic Article 41.2 of Bunracht na hÉireann, which defines a woman's place as in the home; an important signal to the gender equal society we want for our country.
Will you commit to having a gender balanced Cabinet?
Without doubt. We are seeing the positive impact of this in other countries and we are already the most gender friendly party in terms of candidates so we will absolutely carry this through to our cabinet and appointments process.
Having gender balance in central government makes sense on so many levels. As a rounded approach to the leadership of our country, as a beacon to all employers in society, and to role model to our younger generations that all of us have the choice to be who we want to be.
Find out more about NWCI's #FemGen General Election Campaign 2020