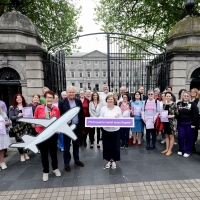 Orla O'Connor: Why are so many Irish women still travelling to the UK for abortions?
Published: Tuesday, July 11, 2023
At least 860 women travelled from Ireland to the UK to access abortion since the Eighth Amendment was repealed. Statistics released by the UK Department of Health and Social Care show that 85 women gave Irish addresses when getting terminations in England and Wales in the first half of 2022.
You may be wondering why – given that five years ago the people of Ireland voted for compassionate abortion care at home. But although abortion provision has been in operation since 2019, the spirit of the landslide Repeal vote has yet to be realised.
Many women and pregnant people have been able to access care in Ireland since 2019 due to conscientious provision by many doctors, nurses and midwives – and at the National Women's Council, we recognise this real progress for reproductive rights. But there is abundant evidence that significant legal barriers to access remain.
And Irish people know it. Since the fifth anniversary of the Repeal vote more than six thousand emails have been sent to TDs and Senators in every constituency, demanding to see change, as part of NWC's abortion access campaign. This isn't surprising given that nationally representative opinion polling from last year shows public support has consolidated since Repeal: 80 per cent now agree no woman in Ireland should still have to travel abroad to access abortion care.
The independent review – the O'Shea Report – published this year recommended legal amendments to enable access to care at home, but there is significant uncertainty around the political follow through. The Oireachtas Health Committee is to look at the recommendations, but there is no clarity on the timeline for this, or whether expert organisations such as the World Health Organisation will be invited into session.
Meanwhile, women are still travelling in the most heartbreaking circumstances. Those 860 women may include couples facing a devastating diagnosis of fatal foetal anomaly; women who have been raped, or prevented by a partner from accessing services; women who have gone through a break-up or a loss of income.
The O'Shea Report shed light on critical shortcomings in the current abortion provision, particularly in terms of the postcode lottery for services; the impact of the mandatory three-day wait; the strict gestational limit, and the need to balance conscientious objection, with the right to access reproductive healthcare.
The piecemeal provision of care has a disproportionate impact on disabled women, refugees, and those reliant on public transport. The lack of abortion provision in eight of our 19 maternity units, coupled with the geographical black spots for services such as in the southeast and northwest, means that women are being forced to travel huge distances at personal expense to access basic healthcare.
Women deserve to have a voice in their own decisions and lives
It is clear from the data published in the O'Shea Report, as well as NWC's own analysis of the UK abortion data, that certain aspects of Irish abortion law hinder women's access to care.
These factors include the three-day wait, the 12-week gestational limit, and continuing criminalisation of abortion. The three-day wait period is patronising and demeaning to women as competent decision-makers and contrary to international WHO guidelines. Evidence shows that women have made their decision about whether to access an abortion or not before seeing a doctor. Mandatory waiting periods simply delay access to time-sensitive healthcare and lead some to timeout of access to care in Ireland completely. They have no place in our law.
For those who have had a failed early medical abortion, or who are prevented from accessing abortion care earlier, the strict 12-week gestational limit denies them a role in reproductive decisions and prevents medical professionals from exercising clinical judgment in the best interests of their patients. Women deserve to have a voice in their own decisions and lives.
Many women with fatal foetal anomalies are still being forced to travel as a direct result of the current legal framework, according to the advocacy group Termination for Medical Reasons. Doctors are not empowered to provide care based on their clinical judgment of fatal foetal anomaly. Rigid, arbitrary limits, such as the 28-day clause – which demands two clinicians certify that an infant will die within 28 days of birth – deny care to women in these most heartbreaking of circumstances. Most clinicians simply do not feel comfortable making this kind of prophecy, and there is the added weight of potential criminal sanctions hanging over the decision.
No law should be frozen in time, immutable to change
Women and medical professionals alike need full decriminalisation of abortion. Abortion after 12 weeks carries a 14-year jail sentence, except in narrowly defined circumstances. No other aspect of healthcare is subject to criminalisation. Nobody, particularly a doctor supporting a patient, should be criminalised for upholding reproductive rights.
Not only do we owe evidence-based reform to the women of Ireland now, we owe it to future generations. It was not only for ourselves that we voted with overwhelming majority to deliver compassionate care at home; it was also so future generations would not be subject to the fears and restrictions around reproductive care that haunted the women of Ireland for generations.
No law should be frozen in time, immutable to change. This is the Government's opportunity to listen to independent expert analysis, including from the WHO, and progress the development of abortion policy as a fundamental aspect of reproductive healthcare. Anything less than that would be a dereliction of their duty of care to the women of this country.
Orla O'Connor is director of the National Women's Council
This article first appeared in the Irish Times on 27 June 2023