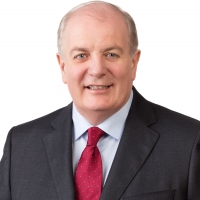 Presidential Election 2018: Gavin Duffy
Published: Saturday, October 13, 2018
2018 has been a pivotal year for women's rights in Ireland and globally. Building on this renewed interest and energy, NWCI has asked the presidential candidates to share their views on women's equality in the role of President. Read Gavin Duffy's response and share your thoughts and ideas using the hasthtag #Feminist President.
What action have you taken to advance women's equality that you are most proud of?
"Proud" is not a word I would use, but as an entrepreneur with a public profile, the most significant action I have taken to advance women's equality is being a regular, outspoken advocate for quotas for women on boards, in senior management and in politics. I believe my advocacy has actually persuaded quite a few, who had reservations about quotas, to consider setting them in their organisations. I am passionate about quotas, believing if we really want to achieve true gender equality in our communities and in the world of work we have to set targets and continuously monitor and measure if we are achieving them.
We are in a golden age currently of women as CEOs leading many of the country's largest companies and I have worked closely as a mentor and business advisor with many of them. The challenge now is to change their corporations and achieve true diversity, inclusion and parity of pay and conditions for all.
Finally let it be noted that the Office and role of the President was only redefined and expanded when we had two women Presidents, Mary Robinson and Mary McAleese.
How would you advance women's rights in the role of President?
If elected President I would set about changing the role of the President's life partner. In my case, my partner, Orlaith Carmody, has had a long involvement working with Women for Election. She is a professional communicator and author of the best seller book Perform as a Leader. Not only is Orlaith my best friend, wife of twenty-five years, and mother of our four adult children, she is also my life long business partner. We work as a team and if elected President we intend to redefine the role of the President's partner. In 2022 on the centenary of the founding of our state Orlaith and I would jointly host the Ireland's Daughters' Assembly where we will debate what we actually mean and how do we achieve full equality for women at the commencement of the second century of our Independence. Just a point here, sadly our political system and the corporate world are still led by a male majority, so when I am trying to convince people especially men to embrace true diversity and inclusion, I talk about what would we want for our daughters and I find I get a much more positive responses and changes do occur. That's why I am proposing an assembly to discuss daughters as opposed to women.
Do you consider yourself a feminist?
Yes, I am a committed feminist in that I believe in full gender equality in every aspect of life. I believe one comes to true feminism only after having suffered discrimination on the grounds of being a woman. As a man I have never felt discriminated against or passed over for a promotion because of my gender, and so can only empathise with women who are discriminated against and do everything to condemn and fix it. And I know women are discriminated against because I have worked with men who have blind spots to women's potential or, sadly feel more comfortable in majority male teams. Of course I challenged those men but many suffer unconscious bias. I have always been different in that regard and have always worked closely and successfully with women. By the way my election boss is a woman, Kate Acheson.
What woman, past or present, inspires you and why?
It is a group of women that I admire; my mother and my aunties. I grew up in an extended family where everyone was involved in business. My mother Anne and Aunty Teresa were restauranteurs, my Aunty Mae owned a bakery and confectionary shop, my Aunty Peg a petrol station, Aunty Pearl a gift shop and newsagents, my Aunty Maureen owned and ran laundromats in Flushing, New York. Today they might be called entrepreneurs but back then they were happy to be just "shop keepers". They were all independent of their husbands and were most definitely feminists and growing up with them formed in me an admiration and respect for strong women.
All views expressed are the views of the candidate and do not necessarily represnt the views of NWCI.