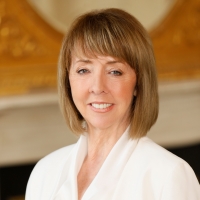 Presidential Election 2018: Joan Freeman
Published: Saturday, October 13, 2018
2018 has been a pivotal year for women's rights in Ireland and globally. Building on this renewed interest and energy, NWCI has asked the presidential candidates to share their views on women's equality in the role of President. Read the response of Joan Freeman and share your thoughts and ideas using the hasthtag #Feminist President.
What action have you taken to advance women's equality that you are most proud of?
When I founded Pieta House and Solace House in New York, I actively chose to appoint women to positions of authority. In my experience women make great leaders. What I have realised, particularly in the private sector, is that we need to help each other. However, probably what I'm most proud of is that I've always taught my daughters to be fearless and that though they may experience fear in tasks ahead of them to go for it anyway.
How would you advance women's rights in the role of President?
One initiative I would like to promote through schools is the encouragement of young women to get involved in politics, particularly by encouraging public speaking in the latter stages of primary education and the early stages of secondary education.
Since being appointed to the Seanad, I have become acutely aware that we need far more elected women in politics. While gender quotas are an excellent policy idea, I think the President could encourage schools to promote public speaking initiatives for schoolgirls to find their voice on public issues. In particular, I like the idea of rolling out a competition for young women to present on issues of public importance with a view to encouraging and recognising the most successful speakers. It would also be important that subsections of young women who may face extra societal disadvantages are equally encouraged to take part in these initiatives.
Do you consider yourself a feminist?
Yes, I am a feminist. I've always believed in parity between men and women. We need to be advocating for women as I believe women's voices should be represented in all aspects of society. Women not only bring skill, talent and leadership, but they also bring empathy to all situations. It makes sense for women and men to work together as it results in a more balanced and fair society.
What woman, past or present, inspires you and why?
I'm always inspired by Angela Merkel. She is an extraordinary strong female figure, she is unflappable, and resilient in a male dominated environment, she's quite possibly the backbone of the EU.
All views expressed are the views of the candidate and do not necessarily represent the views of NWCI.