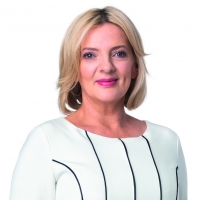 Presidential Election 2018: Liadh Ní Riada
Published: Sunday, October 14, 2018
2018 has been a pivotal year for women's rights in Ireland and globally. Building on this renewed interest and energy, NWCI has asked the presidential candidates to share their views on women's equality in the role of President. Read the response of Liadh Ní Riada and share your thoughts and ideas using the hasthtag #Feminist President.
What action have you taken to advance women's equality that you are most proud of?
I have been consistent in ensuring equality for women and girls is included in every aspect of my work as a Member of the European Parliament, whether through inclusion of gender equality provisions in relations between the EU with non-EU countries, or introducing the concept of gender equality-proofing to EU funding instruments on the Budgets Committee.
What I take great pride in, however, is the encouragement and support I give to young women who wish to affect positive social change. I try to be the best role-model I can be for girls and young women, and to show them that they can be leaders, influencers and change-makers.
How would you advance women's rights in the role of President?
Our best Presidents have been women. I think having a woman in this position provides a very significant role model for young women in particular. Championing the rights of women will be an important strand of my presidency. I will ensure more women than ever are on the Council of State, I will engage with women across Ireland about how they want to see their position transformed in a new Ireland and I will make speaking to young women and teenage girls in schools and colleges a priority. As a mother of three daughters between the ages of 10 and 17 I bring an important insight about the potential of the next generation of young women and the contribution they can make to Ireland's future. Encouraging and promoting this potential of a generation of strong, confident and capable young Irish women is something which I would be very proud to do as President.
Do you consider yourself a feminist?
Yes I am a feminist. I am committed to equality and we cannot have equality until we have equality for women; ní saoirse go saoirse na mban. While much has been achieved in recent years including the Repeal of the 8th Amendment there is a lot still to be achieved in Ireland and across the globe. As an MEP I have been active on range of issues to improve equality for women and if elected President I will continue to advocate for women and girls in Irish society and internationally.
What woman, past or present, inspires you and why?
I am lucky that I have encountered many inspirational women from many walks of life, and each one of them has inspired me in a unique way, despite their common traits of courage, wisdom and resilience. From the mother in Wexford town that set up a ground-breaking facility for children with ASD, while raising a family and holding down a job; to the young traveller woman in Co. Clare who ensures her young siblings are safe and warm before bedding down for the night in sub-standard accommodation. I am inspired by the women who have fought for reproductive rights since their teens and were out campaigning for Repeal this summer with their teenage daughters. I am inspired by the young women in Limerick who experienced the dark side of depression, who lost friends to suicide, and who took action to stop the tide by setting up their own out of hours mental health service.
In a historical context I have always found Gráinne Mhaol to be an inspirational woman. She was a strong, confident and dynamic leader who defied the conventions of her day. She defended her people in the face of aggression and took bold diplomatic initiatives when necessary. I enjoyed reading about her as a girl, and her example taught me at a young age that barriers put in our way can and must be overcome.
All views expressed are the views of the candidate and do not necessarily represent the views of NWCI.