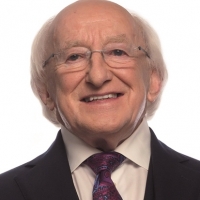 Presidential Election 2018: Michael D Higgins
Published: Saturday, October 13, 2018
2018 has been a pivotal year for women's rights in Ireland and globally. Building on this renewed interest and energy, NWCI has asked the presidential candidates to share their views on women's equality in the role of President. Read Michael D Higgins' response and share your thoughts and ideas using #Feminist President.
What action have you taken to advance women's equality that you are most proud of?
Throughout my life, I've been an advocate for the rights and equality of women. As TD and Senator, I advocated on housing, education, minimum wage and a social floor, highlighting the often-unequal ways these issues affected women. As Minister, I brought talented women to decision-making tables.
Sabina and I were part of early progressive political and civil society movements on contraception, divorce and the status of illegitemacy and opposed introduction of the 8th Amendment in 1983.
As President, I found new ways to support gender equality at a local, national and international level. I have highlighted the achievements of women in every sphere of life including sports, science, business and the arts, encouraged greater recognition for care and community and emphasised the crucial role of women in peace and development. Violence against women must end. In 2015, I became one of 10 Champion World Leaders of the UN's HeForShe. I also met with women who had been in Magdalene institutions and apologised to them on behalf of our state.
My "Presidency of Ideas" has consistently highlighted the words, ideas and actions of women, who, nationally and internationally have shaped history, lead contemporary debate and charted a shared future.
How would you advance women's rights in the role of President?
If re-elected, I have proposed a Presidential initiative on "Participation and Transformation", inviting public discussion on participation, obstacles faced and supports needed. Achieving equality is not simply about opportunities for the individual, it is about changing our spaces and systems. I will also invite institutions to reflect on how they can better deliver inclusion and equality, including gender equality.
Advancing rights and equality for women will remain at the heart of my work and thinking. I believe none of the major challenges of the coming years, be it the right to shelter, climate change, or the future of work, can be fully understood without recognising and addressing gender inequality.
During recent commemorations, I highlighted the contribution of women in to the early trade union, revolutionary, cultural and suffrage movements. I will bring similar inclusion and respect to the more challenging anniversaries ahead.
As your President, I will place equality and rights for women on the agenda when I meet other world leaders. I will extend my work as a UN HeforShe Champion and, alongside Sabina, advocate for the empowerment of all women and girls as central to the Sustainable Development Goals.
Do you consider yourself a feminist?
I am proud to call myself a feminist. I believe global feminism has been a transformative source of new thinking, benefiting everyone. I'm heartened to see a renewed, inclusive, confident, feminism within contemporary movements for a more equal Ireland.
I often quote Nigerian author Chimamanda Ngozi Adichie, who said: "We should all be feminists. A feminist is a person who believes in the social, political, and economic equality of the sexes. A feminist is a man or a woman who says, 'Yes, there's a problem with gender as it is today, and we must fix it, we must do better'."
What woman, past or present, inspires you and why?
In marking the centenary of women's suffrage, I was inspired by the courageous words and work of Eva Gore-Booth. A poet, nationalist, trade unionist and socialist, she had huge influence in Britain and Ireland. In Manchester, she championed the rights of women and working people alongside her life-long partner Esther Roper, and she founded the suffrage movement in Sligo with her sister Constance. She is exceptional in combining so many projects of egalitarianism in her work - trade union rights, gender equality, pacifism and spiritual freedom. In February, Sabina and I visited her gravestone in London.
All views expressed are the views of the candidate and do not necessarily represent the views of NWCI.