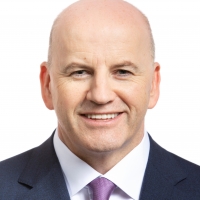 Presidential Election 2018: Sean Gallagher
Published: Saturday, October 13, 2018
2018 has been a pivotal year for women's rights in Ireland and globally. Building on this renewed interest and energy, NWCI has asked the presidential candidates to share their views on women's equality in the role of President. Read Sean Gallagher's response and share your thoughts and ideas using the hasthtag #Feminist President.
What action have you taken to advance women's equality that you are most proud of?
I have had the honour to mentor and coach many businesswomen, I have ardently supported these truly inspirational women to achieve their ambitions. I have delivered talks at workshops and briefings the length and breadth of the country, sharing my advice and expertise to help them achieve their goals.
I have always held a fundamental belief that equality for women isn't simply a women's issue. The onus is on each one of us, as men, as brothers, as fathers, as husbands, as uncles, as businessmen to ensure women's equality. For too long we have simply paid lip service to women's equality without actually delivering any notable changes.
I've worked hard in business as an entrepreneur and job creator and I know many fantastic businesswomen who have done likewise. I have followed them on their road to success and I can say with certainty that their journey has been a lot more challenging than mine. I recently addressed the 'Women Mean Business' Conference in the Shelbourne Hotel where I spoke of how 80% of Venture Capital funding went to male led businesses in the last year. We know this does not reflect the balance of talents and we must work together to bring an end to this archaic attitude.
How would you advance women's rights in the role of President?
The onus is on each one of us to create a more equal society, not just because it's the right thing to do but because when we don't, we deprive our society of the drive and talents that represents over half our population.
This is why, if honoured to be elected President, I am committed to launching a number of special initiatives to promote female participation across all areas of society. The first of these initiatives will focus on female participation in politics, not because it's the politically correct thing to do, but because it's the smart thing to do for our country.
The 2nd April 2019 will mark 100 years to the day Countess Markievicz was appointed Ireland's first female Minister. On this day, I will convene an all-island gathering of past and present female elected representatives to mark the contribution of Countess Markievicz and celebrate the unique contributions of all female leaders from community organisations, activist groups and wider society who have impacted our country for the better.
If elected President, I will also request that all new initiatives which I undertake, have an inclusive focus, and that in as far as applicable there will be a full gender balance.
Do you consider yourself a feminist?
Yes, absolutely and it's a badge I wear with pride. For me, feminism is not only about believing that women should have equal rights and opportunities. It's also about standing up when we don't see this happening, whether it's in politics, a playground or a boardroom. As much as I want Lucy to grow up with all the opportunities she and every girl deserves, I also want my son Bobby to grow up knowing that being a feminist is a strength because it means that you stand for others and are committed shaping a future where everyone is equal.
What woman, past or present, inspires you and why?
My life has been shaped by countless inspirational women, my mother Ann, my wife Trish and my daughter Lucy among others. But I have always admired Mary McAleese greatly. As President, she led in a way that allowed others to step forward and take responsibility, particularly in her work building bridges in Northern Ireland. Her approach was courageous in the context of how fragile peace was back then but her impact was immeasurable. If elected President, her approach to working with communities, leading by example and being future focused would certainly guide me every day in my role.
All views expressed are the views of the candidate and do not necessarily represent the views of NWCI.