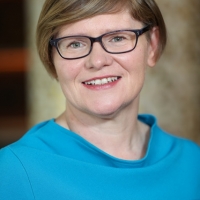 Orla O'Connor: We must recognise harassment for what it is – it is gender-based violence
Published: Thursday, December 10, 2020
This year has been like no other. As the global 16 Days of Action on violence against women end today, we know that domestic violence rose significantly during the COVID-19 restrictions. Frontline services reported significant increases in calls to helplines throughout the restrictions. The move to work and socialise online has highlighted the increasing online harassment and abuse that in particular women and girls are experiencing.
Harassment and abuse have a devastating impact on women's and girls' lives, limiting their freedoms and preventing them from participating in society in the way they would wish. We know, for example, that the fear of online abuse is one of the key factors that is preventing more women, in particular younger women and women from minority backgrounds, from running for public office.
This year for the 16 Days of Action, the Irish Observatory on Violence Against Women, an independent network of grassroots and national organisations, convened by the National Women's Council, puts a spotlight on gender-based harassment in all its forms so that we as a society treat the issue with increased seriousness and sanctions.
The understanding of what constitutes violence has, thankfully, evolved considerably. Ireland now accepts that violence goes far beyond broken bones and bruises. Psychological violence, in the form of coercive control, has been a criminal offence for three years and has had one successful conviction to date. Gender-based harassment fits within this broadened, more accurate, understanding of violence and is a key part of it.
Harassment takes many forms and varies in the harm is inflicts on its victims. It happens both online and offline. It occurs between intimate partners, ex-partners and strangers. It can target your friends and family or you alone. It is possibly the most widespread form of violence that has received the least amount of attention. And, importantly, it is overwhelmingly gendered. Perpetrators of harassment are disproportionately men and boys whereas the victims are disproportionately women and girls.
The lack of attention paid to gender-based harassment so far shows just how normalised this form of violence is within our society. The harasser may be viewed as a 'pest' or a 'nuisance', or worse as just very 'eager'. Only in the most severe cases are perpetrators seen for what they are – dangerous, violent and criminal individuals. Unfortunately, it has taken courageous women to come forward and speak publicly about their personal experiences and the devastating consequences of harassment on their lives before society and particularly those in power take notice and are moved to act.
Harassment, like all gender-based violence, is rooted in harmful gender stereotypes, unequal power relations and ingrained gender inequalities. Only if we address these inequalities can we end gender-based violence. The first step is to name it as a problem. This is why organisations tackling violence against women are calling not only for legislation for the specific crimes of online harassment, stalking and image-based sexual abuse but for a broader understanding that such activities can be part of a wider pattern of gender-based abuse and hate. Specifically, including gender as a protected ground in the forthcoming Hate Crime legislation is a critical area for change. This would make it more culturally acceptable to object to the behaviour and would recognise the additional harm caused to the individuals. Crucially, it would send a strong societal message to any potential perpetrator that gender based harassment is unacceptable. The improved data collection that would follow would allow us to develop more targeted responses to offenders.
While we have come a long way, there is still much road to travel. In 2019 Ireland ratified the Istanbul Convention on Violence against Women, which is regarded as the gold standard in the fight against gender-based violence. As a country we have therefore committed to addressing all forms of harassment. Action is needed to systematically prevent, tackle harassment and hold perpetrators to account. This means that we will not just have to answer to the countless women and girls who will continue to be subjected to this behaviour. We will also have to account for our actions internationally. Ireland's obligations under the Istanbul Convention will be judged objectively and, without action, will expose the lack of care, attention and commitment that has been shown to safeguarding and protecting the human rights of Ireland's women and girls.
Orla O'Connor is the Chair of the National Observatory on Violence against Women and Director of the National Women's Council.