Beyond Exploitation webinar
Monday, June 21, 2021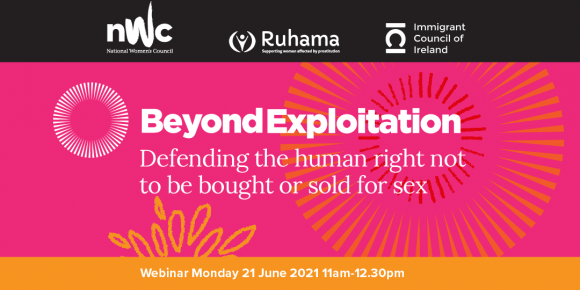 Join us on Monday 21st June at 11am for our webinar. Find out more about the Beyond Exploitation campaign and how you can get involved.
The National Women's Council Director, Orla O'Connor will chair this event, with speakers including:
Mia de Faoite, Beyond Exploitation Campaign Coordinator at the National Women's CouncilBrian Killoran, CEO Immigrant Council of Ireland
Barbara Condon, CEO Ruhama
Ivana Bacik, Senator
Salome Mbugua – Commissioner for Irish Human Rights and Equality, & Head of Operations and Strategy at AkiDwA
Karen McGowan, President of the INMO
David Joyce, Policy Officer, Equality and Development at Irish Congress of Trade Unions
Tanya Ward, CEO, Children's Rights Alliance
Ruth Breslin, Researcher, The Sexual Exploitation Research Programme (SERP), UCD
Martin Kenny, Sinn Fein Justice Spokesperson
Beyond Exploitation is Ireland's civil society campaign for equality and freedom from sexual exploitation. Led by National Women's Council, with partner organisations Ruhama and Immigrant Council of Ireland, we support the most vulnerable and silenced people in prostitution to have a voice. We are advocating for policies and measures that give all women and girls a real choice not to be bought or sold for sex.
Find out more about Beyond Exploitation
The webinar will be supported by ISL Interpreters . If you have any other accessibility needs, please get in contact with Susan McCormack susanmcc@nwci.ie by the 14th June to support our preparations.
Starts: 21 June 2021 11:00
Ends: 21 June 2021 12:30