Engaging with International Mechanisms: Women's Forum Public Meeting
Thursday, October 28, 2021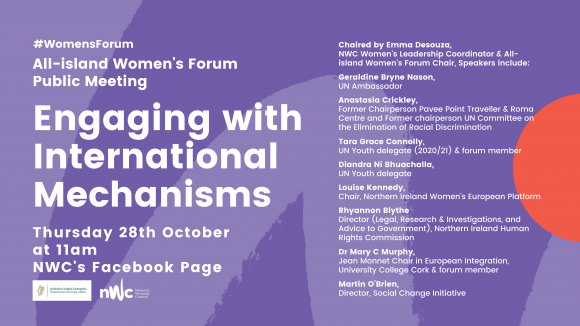 We are delighted to announce that Irish Ambassador to the United Nations, Geraldine Byrne Nason will be speaking at the upcoming live streamed meeting of the All-island Women's Forum alongside a fantastic panel of speakers on Thursday 28th Oct at 11am.

The meeting will look at the role of international human rights instruments, including UNSCR 1325 on women peace and security and UNSCR 2250 Youth4Peace in advancing and defending human rights, peace and security.

The forum will also be exploring international protections such as the Committee on the Elimination of Discrimination against Women (CEDAW) and the Northern Ireland protocol and will be looking for ways that the forum can further work in the areas of human rights and equality.

Led by the National Women's Council (NWC), The All-island Women's Forum aims to address underrepresentation of women and further develop women's role in peacebuilding and civic society. Consisting of 28 members, 14 from the North and 14 from the South, the Forum aims to build sustainable North South links, provide a space for marginalized communities, and build better understanding and inter-community links.
Watch this meeting live on our Facebook page on Thursday 28th Oct at 11am. There are no tickets for this meeting.
Starts: 28 October 2021 11:00
Ends: 28 October 2021 12:00