Expanding Good Relations - More Than Two Communities
Thursday, September 23, 2021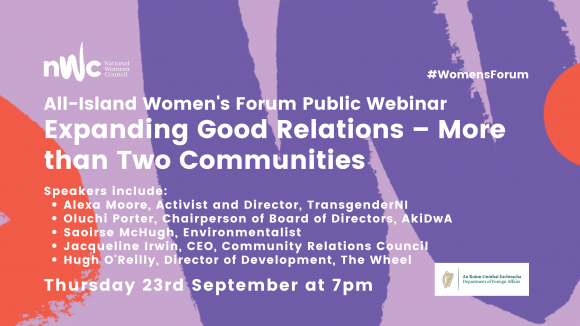 Join the All-island Women's Forum as we celebrate Good Relations Week 2021!
The All-island Women's Forum provides a space for women from across the island for cross border cooperation and dialogue.
Led by the National Women's Council (NWC), The All-island Women's Forum aims to address underrepresentation of women and further develop women's role in peacebuilding and civic society. Consisting of 28 members, 14 from the North and 14 from the South, the Forum aims to build sustainable North South links, provide a space for marginalized communities, and build better understanding and inter-community links.
In celebration of Good Relations Week 2021 the Forum is hosting its first public webinar 'Expanding Good Relations - More than Two Communities'
Join us for a panel discussion on the breadth of diversity across this island.
Speakers include
Alexa Moore, Activist and Director TransgenderNI
Oluchi Porter, Chairperson of Board of Directors, AkiDwA
Saoirse McHugh, Environmentalist
Jacqueline Irwin, CEO Community Relations Council
Hugh O'Reilly, Director of Development, The Wheel
Orla O'Connor, CEO National Women's Council
Register online via Eventbrite here
The webinar will be supported by ISL Interpreters.
The Forum represents a contribution by the National Women's Council to the Irish Government's Shared Island initiative in the Department of an Taoiseach, by enhancing civil society links and supporting engagement by women, across communities and traditions on the island, on issues of common concern.
The forum is funded by the Department of Foreign Affairs Reconciliation Fund
Starts: 23 September 2021 19:00
Ends: 23 September 2021 20:30
Sorry, we couldn't show you the map