#FutureisFeminist: Celebrating Women in the Arts
Monday, March 08, 2021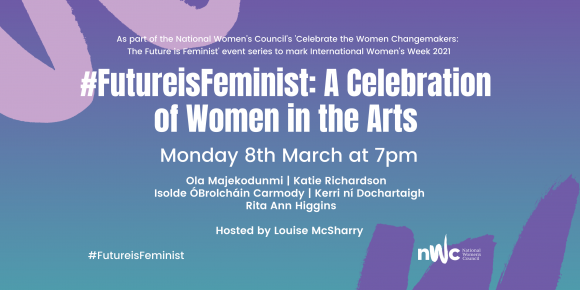 Join us as we celebrate Women in the Arts!
As part of the National Women`s Council's 'Celebrate the Changemakers: The Future is Feminist' event series to mark International Women`s Week 2021 we are hosting six very special guests to showcase their work and to hear in their own words what has inspired them and how we can strive for a feminist future.
Expect music, spoken word, and much more.
Guests include:
Isolde ÓBrolcháin Carmody: a writer and performer who moved to Co. Leitrim from Dublin in 1999 who has worked extensively around the North-West and beyond in community theatre and collaborative arts. Her practice is informed by Theatre of the Oppressed and aesthetic accessibility, drawing on the legacy of the Focus Theatre in Ireland.
Kerri ní Dochartaigh: is a Nature writer and essayist from Derry. In her first book, Thin Places, she contrasts between nature writing and memoir, the book is an emotional history of the Troubles and an exploration into the comforting and healing power of the natural world.
Katie Richardson: is a musician, composer, producer and facilitator who currently makes her own music under the name Hex Hue. For several years she was a member of Choice nominated 'Pleasure Beach' with whom she toured the UK and Ireland. She has worked and collaborated with musicians such as Foy Vance and Duke Special as well as supporting artists like Van Morrison, Noel Gallagher's High Flying Birds, Jesca Hoop, Bell X1, All Saints and many more. As a composer Katie has worked with many theatre and film companies across Ireland including Oscar nominated and Bafta award winning Out of Orbit Films. In 2018 she starred in (and worked as on-stage musical director) the production of Good Vibrations in The Lyric Theatre. In 2020 she was selected as one of Prime Cut's 'Reveal Artists' which is a coveted development programme for emerging theatre makers. Katie recently curated the Creative Hub for the TedX Stormont online event and is the chair of Safe in Sound NI who have a vision of a safe, strong, connected music sector founded on equality, diversity and respect.
Ola Majekodunmi: is an Irish radio presenter, Irish language activist, and film-maker. She directed the short film What does Irishness Look Like?, which examined the issues around prejudice and national identity in Ireland. She is a co-founder of Beyond Representation, which seeks to bring together and celebrate women of colour in Ireland.
Rita Ann Higgins: is an award-winning Irish poet. She was Galway County's Writer-in-Residence in 1987, Writer in Residence at the National University of Ireland, Galway, in 1994–95, Writer in Residence for Offaly County Council in 1998–99. She was Green Honors Professor at Texas Christian University, in October 2000. Other awards include a Peadar O'Donnell Award in 1989, several Arts Council bursaries 'Sunny Side Plucked' was a Poetry Book Society Recommendation. She was made an honorary fellow at Hong Kong Baptist University November 2006.
Hosted by Journalist, Author and Broadcaster Louise McSharry
This event is free. However, if you are in a position to contribute towards the costs, we would greatly appreciate a donation
You will receive the Zoom link to our webinar before the event.
The webinar will be supported by ISL Interpreters . If you have any other accessibility needs, please get in contact with Susan McCormack susanmcc@nwci.ie by the 25th February to support our preparations.
Starts: 8 March 2021 19:00
Ends: 8 March 2021 20:30