In from the Margins
Wednesday, June 29, 2022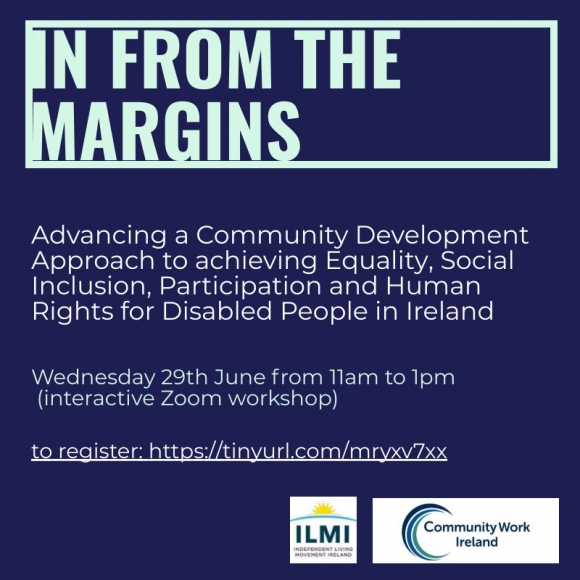 Independent Living Movement Ireland and Community Work Ireland are delighted to announce our joint webinar "In from the Margins: Advancing a Community Development Approach to achieving Equality, Social Inclusion, Participation and Human Rights for Disabled People in Ireland
The Irish State has to a certain extent recognised and invested in the role of grassroots community organisations and their role in participating in the development of policies to tackle poverty, reduce discrimination and promote inclusion.
Due to the medical model of disability and the, disabled people have not directly benefited from any meaningful investment in community development resourcing or approaches. This has had a serious impact on disabled people's voices being heard in the development of policy locally and nationally.
This webinar will explore the historic absence of community development approaches with disabled people in Ireland and the impact that this has on disabled people's lives. It will explore the evolution of the disability rights movement in Ireland and reflect on parallels with the Traveller experience of exclusion, oppression and inequality and the traditional paternalistic charity based approaches to working with Travellers which characterised this experience.
It will examine the shift to and impact of community development work with Travellers over the past four decades and examine what community workers should do to support meaningful, participative and collective spaces for disabled people and the emergence of Disabled Persons Organisations (DPOs).
Register in advance for this meeting:
https://us02web.zoom.us/meeting/register/tZMvdemrrj0vG9c-wewaWQoOLj8JHPRED-aQ
Speakers and agenda to follow.
Starts: 29 June 2022 11:00
Ends: 29 June 2022 13:00
Location: Zoom