Increasing Gender Balance on Boards: The Case for Legislative Gender Quotas in Ireland
Thursday, June 24, 2021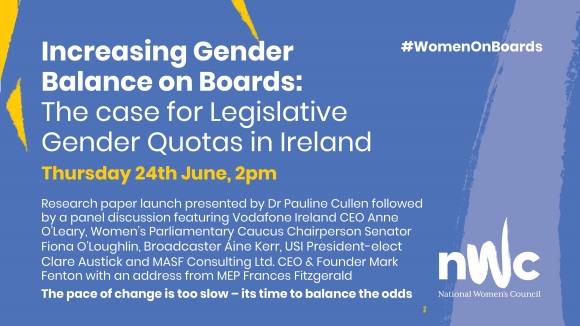 Join us for the launch of 'Increasing Gender Balance on Boards: The case for legislative Gender Quotas in Ireland', on Thursday, 24th June at 2pm.
The global spread of corporate quotas for women over the past 30 years is both remarkable and consequential. After adoption, quotas have influenced the number of women on boards, the performance and outcomes of decision-making bodies, and broader public attitudes. Quotas redistribute power at the top of the labour market that has positive trickle-down benefits : for companies in improving financial performance; for other women at all levels in a firm that include smaller gender wage gaps more flexible work options and measures to combat sexual harassment. Legislative quota laws are most successful in increasing women's board representation.
In the report we make the case for mandatory corporate gender quotas in Ireland - underlining the efficacy of gender quotas to deliver significant increases in gender balance on corporate boards.
Speakers will include;
Dr Pauline Cullen
Anne O'Leary, CEO, Vodafone Ireland
MEP Frances Fitzgerald on the European perspective on quotas
Senator Fiona O'Loughlin, Chairperson of the Women's Parliamentary caucus
Mark Fenton, CEO & Founder, MASF Consulting Ltd.
Orla O'Connor, Director, NWC
Aine Kerr, Broadcaster, Co-founder & COO, Kinze
Clare Austick, USI President-elect
You can register for the event via Eventbrite here
Starts: 24 June 2021 14:00
Ends: 24 June 2021 15:30