"Integration Matters" conference - Immigrant Council of Ireland
Tuesday, November 08, 2022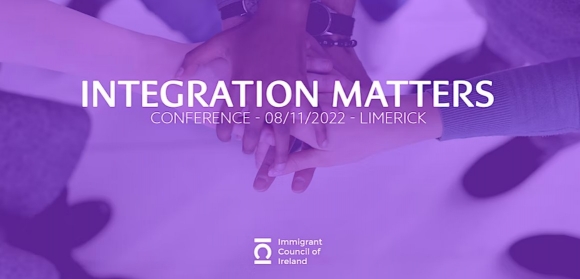 The "Integration Matters" conference organized by the Immigrant Council of Ireland is bringing together community and migrant leaders, local authority staff and different stakeholders working in the areas of migration, integration and community development to share their experiences and identify positive actions for greater diversity in politics and successful migrant integration.
During this conference, we will be launching "Indicators for Local Integration (ILI) Index", designed to measure the progress in the area of migrant integration and to support Local Authorities in designing and implementing their integration strategies.
Alongside this we will also be launching our forthcoming Toolkit for migrant candidates running for election in Ireland. A valuable and practical resource which aims to reduce some of the barriers face by migrants in Ireland in running for election.
On the day we will also have a panel event on our EU funded SALAAM project which focuses on supporting local authorities on social inclusion and integration of Muslim communities in Irish society.
The event will take place in the Absolut Hotel, Limerick, on Tuesday, 8th November 2022, 11 am – 4 pm.
Lunch will be provided but registration is required.
Full agenda below and please register by clicking here.
AGENDA:
10:15am: Registration Open
Panel 1: "Integration in Local Authorities: what are the indicators?"
Moderator: Liliana Fernandez, Immigrant Council
Panellists:

Thoiba Ahmed, Local election candidate 2024 - Donegal
· John Lannon, CEO, Doras (Member of the Advisory Committee Indicators for Local Integration (ILI))
· Seamus O'Connor, Limerick City and County Council
Panel 2: "Representation in politics: where are the migrants?"
Moderator: Megan Flynn, Local election candidate 2024 – Gort/Kinvara, Galway.
Panellists:

· Valesca Lima, Lecturer - Dublin City University
Cllr. Abul Kalam Azad Talukder, Local Councillor Limerick City and County Council
Anne Waithira Burke, Local election candidate 2024 – Wicklow
Panel 3: Supporting Local authorities in social inclusion and integration: EU SALAAM project.
Moderator: Aideen Roche, Policy Officer, Doras.
Panellists:

James Carr, Lecturer - University of Limerick
Nedson Ng'oma, Network and Communications Officer – INAR
Islamiyah Saudique Kadejo, CEO, GOCOM Radio Galway
15:45: Closing Address – Brian Killoran, CEO, Immigrant Council of Ireland
Starts: 8 November 2022 11:00
Ends: 8 November 2022 16:00
Location: Absolut Hotel, Limerick