Launch of SIPTU's Women Workers Manifesto
Sunday, March 08, 2020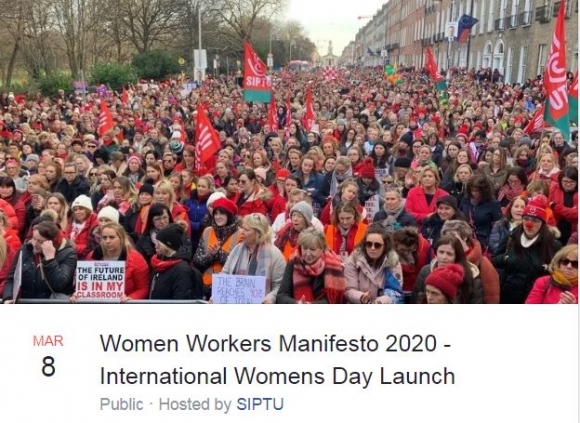 SIPTU will launch their Women Workers Manifesto 2020 on International Women's Day

2:00pm - Launch of SIPTU's Women Workers Manifesto by Honorary Vice President Michele Monahan and Deputy General Secretary Ethel Buckley. Speakers include women Shop Stewards from a range of industries.

Exhibition: '20 images for 2020'
20 iconic photographs of SIPTU women organising and campaigning during the decade 2010 to 2020.

3:00pm - Film - 'Naila and the Uprising'. A special IWD screening of the highly acclaimed Palestinian documentary film followed by a discussion and Q&A with the film's producer Rula Salameh in the Liberty Hall Theatre.

The film chronicles the remarkable journey of Naila Ayesh and a fierce community of women at the frontlines whose stories weave through the most vibrant, nonviolent mobilisation in Palestinian history - the First Intifada in the late 1980s.

Trailer: https://www.youtube.com/embed/zotlaEEnSZw

The film is jointly hosted by SIPTU and the Ireland-Palestine Solidarity Campaign as part of SIPTU's International Womens Day celebration and IPSC's series of events to mark Israeli Apartheid Week.

Film will be followed by a Social in the Cois Life Bar until 7:00pm.
Starts: 8 March 2020 14:00
Ends: 8 March 2020 19:00
Location: Liberty Hall, Eden Quay, North City, Dublin