New Communities Partnership Webinar: "Effective Networking to Land in Your Industry"
Wednesday, September 30, 2020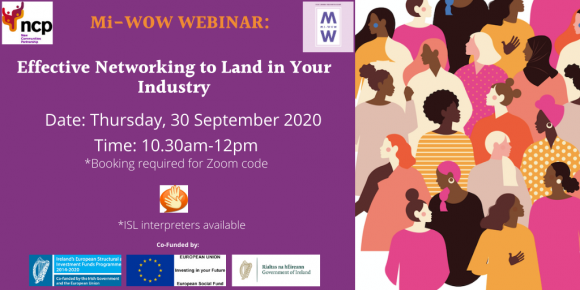 New Communities Partnership is delighted to host our project Mi-WOW (Migrant Women-Opportunities for Work)second webinar, as part of a free live webinar series.
Mi-WOW aims to explore, support, and overcome specific barriers that migrant women are facing in Ireland during their job-seeking journeys. Mi-WOW is designed to empower migrant women to reach their potential, rebuilding their confidence, and upgrading their skills to facilitate their access to the labour market and/or career progression in ways that are linked to their professional goals.
The objective of Mi-WOW's webinar series is to discuss and learn about relevant issues related or affecting migrant women and the Irish labour market.
The second webinar "Effective Networking to Land in Your Industry", will be a discussion panel chaired by Sandra Ruiz Moriana, Mi-WOW Project Coordinator, with the participation of a fantastic panel formed by Councillor Uruemu Adejinmi, from Longford County Council, Hayley Colloty, from the Department of Foreign Affairs and Trade, and Lola Ros Gordon, from the Arts Sector. Together they will explore the importance of having an effective networking to enter or navigate different work industries in Ireland.
The registration is now open! If you'd like to attend, please register on Eventbrite via this link.
Starts: 30 September 2020 10:30
Ends: 30 September 2020 11:30
Location: Online