No Woman Left Behind - Women's Rally
Saturday, March 05, 2022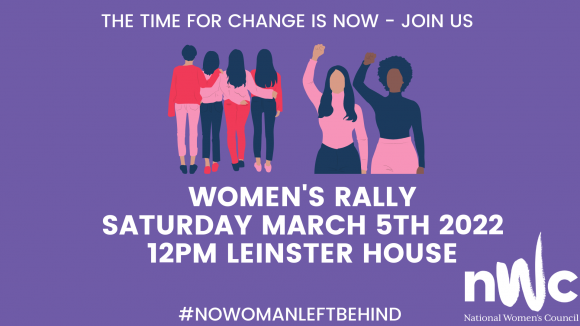 On March 5th at 12pm the National Women's Council (NWC) will hold a rally outside the Dail to call for political leadership and action on women's equality.
Violence against women is an epidemic, women remain the carers in Ireland with minimal shift in our culture of care, our childcare costs are among the highest in Europe, and lone parents, the majority of whom are women, are most impacted by the housing crisis and are the group most at risk of deprivation. Meanwhile, we continue to battle the interference of the Catholic Church in our reproductive healthcare and the future of our new national maternity hospital.
We demand change and hope you will join us at the rally.
At the rally, we will hold a moment's silence in solidarity with women and people in Ukraine and Ukrainians in Ireland.
Speakers include:
Patricia King, Irish Congress of Trade Unions
Senator Eilenn Flynn, National Traveller Women's Forum
Sara Benson, Women's Aid
Noeline Blackwell, Dublin Rape Crisis Centre
Jason Poole, brother of Jennifer Poole
Salome Mbugua, AkiDwa
Roisin Shortall TD
Ailbhe Smyth, feminist activist
Vic Young, Alliance for Choice
Ruth Coppinger, ROSA
Brid Smith TD
Ethel Buckley, SIPTU
Mary Lou McDonald TD
Louise Bayliss, Focus Ireland
Eilish Balfe, Big Start Campaign
Gladys O'Neill, pension justice activist
Continuum Youth Choir
Ivana Bacik TD
Lorraine Lally, disability rights
Mimi Unamoyo, Bomoko
Starts: 5 March 2022 12:00
Ends: 5 March 2022 13:00
Location: In front of Leinster House, Kildare Street, Dublin 2