ONLINE Negotiation Workshops for Professional Women - 3 x Nights
Monday, March 08, 2021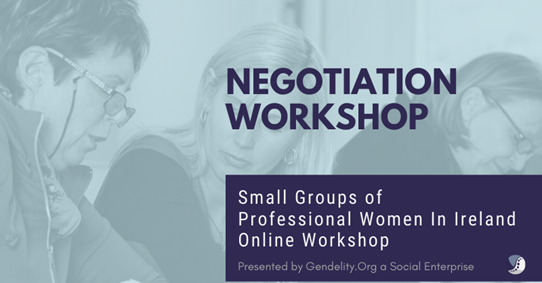 ONLINE NEGOTIATION WORKSHOPS FOR PROFESSIONAL WOMEN
This practical, evidence-based online course equips you with a plan, skills and practice to address your particular situation. Asking is difficult. Whether in discussion with customers, colleagues or your boss, reaching agreement, without burning bridges, takes practice.
Afraid of being seen as pushy or overbearing? You are not alone. Gender shapes negotiation with different informal expectations for women. This course takes a practical approach to equipping you to negotiate team resources, promotion, pay and benefits. Confidence is a key consideration.
Using the example of negotiating with your line manager for improved benefits or promotion, over 3 Monday sessions you'll
explore your specific motivation for your situation.
hear first-hand about the experience of your peers / experienced business women.
explore some of the pitfalls of women negotiating for themselves.
learn evidence-based approaches to successful negotiation.
develop techniques to manage barriers.
practice negotiation techniques using a situation of your choice.
receive friendly actionable feedback.
43% of women versus 51% men indicate that they have negotiated at work.
Starts: 8 March 2021 20:00
Ends: 22 March 2021 21:30
Location: Online