Repeal the 8th Conference
Saturday, September 06, 2014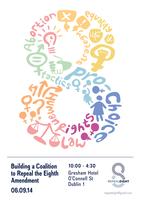 Last October, 12 women's and civil society organisations released a joint statement highlighting the detrimental impact that Article 40.3.3 has on women in Ireland, and announcing a national campaign for its repeal.
The Eighth Amendment continues to cause great hardship for women in this country. At least 150,000 women have been forced to travel to the UK for an abortion since 1983. Migrant women, women with little or no income, women who are unable to travel for whatever reason, women facing a pregnancy with a medical diagnosis of fatal foetal abnormality have all suffered disproportionately over the past three decades. We are committed to its repeal. (Our full statement can be read here.)
As a major first step in building the coalition, we're holding a Repeal the 8th Conference. Panels will include Abortion in Ireland - the Current Situation; Human Rights, Equality and The Law; and Building a Repeal the 8th Amendment Coalition - Strategies and Tactics.
You can download a copy of the conference programme here.
A limited number of places have become available, you can book your place here.
If you can't attend, you can follow the conversation on line, using #Repealthe8th. We would also encourage everyone to make their voices heard at the March for Choice, September 27th.
DONATE TO SUPPORT OUR CAMPAIGN
If you cannot attend, please consider supporting NWCI's campaign for women's reproductive rights today by making a donation to help us continue our work or by becoming an individual member.
With your support we can organise to achieve what's needed. Thank you!
Abortion Rights Campaign, Action for Choice, Akidwa, Cork Women Right to Choose Group, Doctors for Choice, Dublin Well Woman Centre, Irish Council for Civil Liberties, National Women's Council of Ireland, Socialist Party, Termination for Medical Reasons, Union of Students in Ireland, UNITE
Starts: 6 September 2014 10:00
Ends: 6 September 2014 16:30
Location: The Gresham Hotel, O'Connell St, Dublin 1