Savita: 10 Years On, the March Goes On
Saturday, October 29, 2022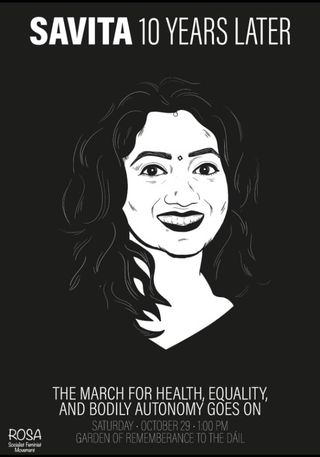 March with ROSA from the Garden of Remembrance to the Dáil at 1pm on the 29th of October to commemorate Savita and say never again!
After hundreds attending ROSA's Bread and Roses Festival in which the idea was enthusiastically endorsed, ROSA is proposing the idea of a march from the Garden of Remembrance to the Dáil at 1pm on Saturday 29 October, 10 years after the death of Savita Hallapanavar , both to commemorate her and to restate what we vowed following her death - 'Never Again.'
The issues that flowed from Savita's death are still pressing. Repeal and the subsequent abortion law has been a seminal achievement, but limits in the law and access are leaving people behind. 375 people had to travel for abortions to England and Wales in 2019; only one in ten GPs are providing abortion services' only 10 of the 19 maternity hospitals.
Furthermore, the debacle of the National Maternity Hospital shows that Fianna Fáil, Fine Gael and the Greens are unwilling/ unable to stand up to the church. Despite an epidemic of gender based and LGBTQphobic violence thus year, as we've graphically seen with the murders of Ashling Murphy, Michael Snee and Aidan Moffit, nothing has been done to provide comprehensive sex education in all schools that is LGBTQ-inclusive and consent focused.
The time to march is now!
More information on this event can be found by clicking here.

Starts: 29 October 2022 13:00
Ends: 29 October 2022 15:30
Location: Garden of Remembrance, Dublin 1